How to Create Anagrams
Category:
How To
What is an ANAGRAM?
As usual, wikipedia provides the answer;
An anagram is a type of word play, the result of rearranging the letters of a word or phrase to produce a new word or phrase, using all the original letters exactly once.
Meaning, any word or phrase that exactly reproduces the letters in another order is an anagram.
Example:
The letters in the word GARDEN can be rearranged to form the anagram, DANGER.
An anagram can be created manually or by-hand but is too taxing and time-consuming. I searched online for an anagram creator software and the best I could find is the Anagram Genius. You can download a free trial version at their website here.
I immediately toyed with it and naturally entered my full name first.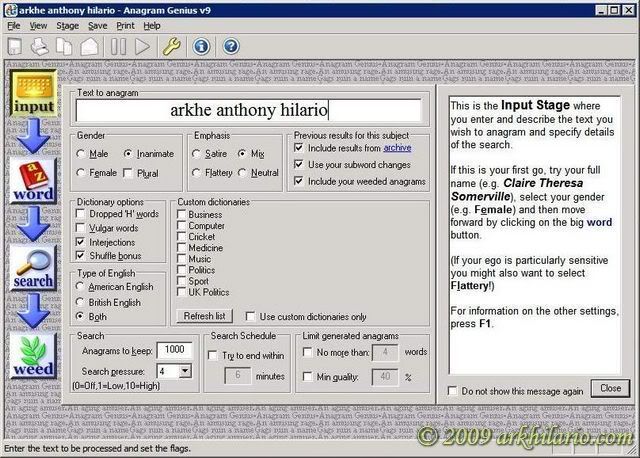 After clicking on the search button, a number of phrases appeared but most are incomprehensible. I weeded out one phrase which stood out.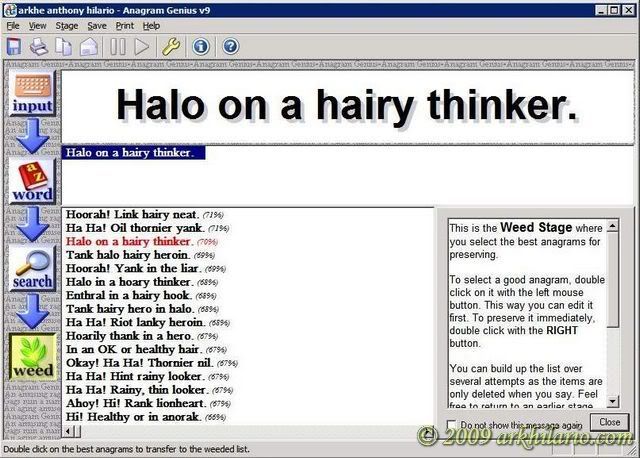 "Halo on a hairy thinker." I think that pretty much describes me.
I'm hairy because I'm "balbon", I'm a thinker because I'm an intellectual and I have a halo because I'm an angel. Hehehe… Oops! Wala'ng papalag, blog ko ito!
I tried with other names and these are what I found:
President Gloria Macapagal Arroyo – I'm a derogatory or appealing rascal.
Vice-President Noli de Castro – Vendetta inspires crocodile.
Joseph Ejercito Estrada – Rejected as a poorish jet.
Do the anagrams match with the personality of those people? Hehehe… I had fun with it. Try it also. 😉
If you want to receive my latest posts, please
subscribe to my full feed RSS
or have them delivered through email. Just enter your email address below and hit the Subscribe button.
Tags: anagram, gloria macapagal-arroyo, wikipedia
11 Responses to "How to Create Anagrams"
Leave a Reply