Vote for Manny Pacquiao in Time Magazine's Top 100 List
Category:
Boxing
Time Magazine has already released the finalists for its annual list of 100 Most Influential People in the World. For this year's list, 202 people (sometimes pairs or groups) are included in the online voting.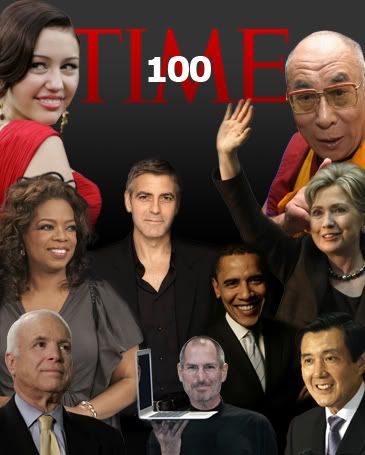 The Philippines' very own Manny Pacquiao is included in the elite list. He is also the only boxer. Pacman's inclusion in the list of finalists is ALREADY a great source of pride for us Filipinos but if he can make it to the Top 100, then that's all the more reason that we'll feel great honor. NO Filipino has ever been named to that list!
As of the latest tally, Manny Pacquiao is ranked #15. That's actually a pretty high ranking considering that he ranks higher than Hillary Clinton, Pope Benedict XVI, George W. Bush, Michelle Obama, Brad Pitt, Oprah Winfrey, Kobe Bryant and Tiger Woods.
[ad#link_insidepost]
But if you check up the ladder, currently #1 on the list is one just simply named moot. #2 to #14 includes Rain, Stephen Colbert, Jon Stewart, T-Pain and Seth McFarlane. Pardon me for being naive and ignorant to what they have achieved but do these people deserve a higher ranking than Pacman? They are even ahead of US President Barack Obama which is at a "mere" 11th position.
Here in our country, Manny Pacquiao is considered a national icon. His fight days are the ONLY days where ALL Filipinos unite. Rebels and soldiers, administration and opposition camps unite to support him. Crime rate is virtually ZERO. Few people can be seen walking in the streets when his fight is already ongoing. ALL eyes are focused on the television screen to watch him bring another victory for our motherland. That's around 90 million pair of eyes! Now, who in the world is influential enough to bring a country into that kind of frenzy?
To vote for Manny Pacquiao, go to his Time Magazine page here.
REMEMBER: from 50, you should move the slider to 100, NOT to 1. 100 is the rank for the most influential while 1 for the least influential.
===================================================

UPDATE April 28, 2009: Manny Pacquiao ranked 22nd on Time Magazine's annual list of 100 Most Influential People in the World. He got 20, 391,818 votes after two months of online voting. It was the most number of votes among 203 finalists. However, his relatively low average influence rating of 27 out of 100 pulled him down to #22 overall in the final roster. See Time's final list and article here.
If you want to receive my latest posts, please
subscribe to my full feed RSS
or have them delivered through email. Just enter your email address below and hit the Subscribe button.
Tags: barack obama, filipino, list, manny pacquiao, pacman, time
13 Responses to "Vote for Manny Pacquiao in Time Magazine's Top 100 List"
Leave a Reply