My New Tools of the Trade
Category:
Personal
The organization where I work for has a program that provides assistance to schools in the ARMM and CAAM (conflict-affected areas of Mindanao) by providing them internet connection, computer units and computer-related trainings and seminars. I am one of the technical persons assigned in the field to oversee the operation. We render to the recipients our services like local area network (wired and wireless) installation and computer repairs. Hence, it is very important that we have all the things we need to perform our work more efficiently.
Last Monday, I was surprised when I arrived at the office to see a box enclosed in a wooden crate waiting for me. I immediately asked Jared for the hammer and when I opened it, I was happy to find out that inside are the NEW tools, gadgets and devices we have requested. It was good timing as my crimping tool was recently broken. Some of my OLD tools are already rusty and blunt.
These are my new tools of the trade:
tool kit (screwdrivers, soldering rod, desoldering pump, wrench, anti-static brush, pliers, wire cutter, etc.)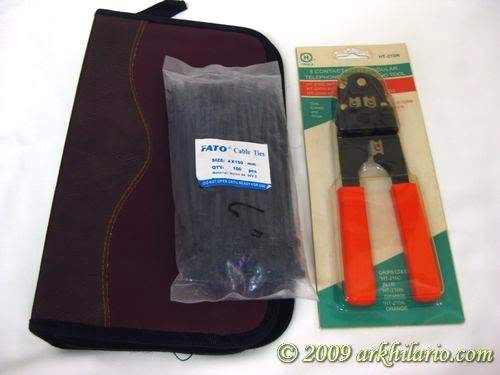 crimping tool, CD wallet and cable ties
DVD writer with metal enclosure – for burning installers and backup files to CD/DVD
PCI LAN cards – for wired networking
8-port Ethernet switch – for wired networking
wireless-G router – for wireless networking
colored printer (this arrived earlier) – for immediate printing needs
We have also requested for a digital multi tester, RJ45 connectors, gun tacker and cable tester but they have not arrived yet. It sure feels good and inspired to work when you have the entire essential tools you need to carry out your duties and responsibilities. 😉
If you want to receive my latest posts, please
subscribe to my full feed RSS
or have them delivered through email. Just enter your email address below and hit the Subscribe button.
9 Responses to "My New Tools of the Trade"
Leave a Reply