Manny Pacquiao's Ceremonial First Pitch and Bobblehead Doll
Category:
Boxing
A ceremonial first pitch is a ritual in baseball where the guest of honor stands in the pitcher's mound and throws a baseball to a catcher in the home plate. This signifies the start of the game. Manny Pacquiao did just that before the San Francisco Giants and San Diego Padres game yesterday. Although Pacman looked like a golfer or billiards player with his black and white outfit, his pitch to Cy Young Awardee Tim Lincecum (who is half-Filipino) was pretty decent.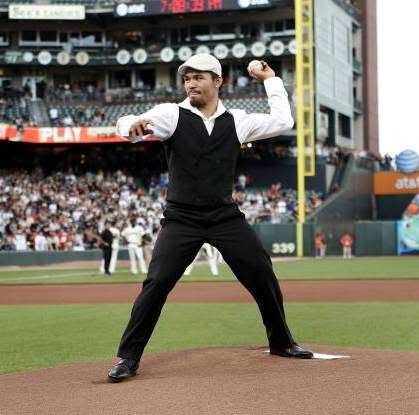 [ad#link_insidepost]
This happened during the celebration of  Filipino Heritage Night at the AT&T Park San Francisco Giants Stadium where 42,000 fans were in frenzy over Manny Pacquiao. He was treated like a rock star! To think that most of the fans there were Americans, I can say that Manny's influence has already spread around the world. Everyone at the stadium chanted his name. Everyone wanted a piece of him. Well, those who got themselves a limited edition bobblehead doll came close to having done so. Pacman is the first boxer to be honored by a Major League Baseball team with a bobblehead doll. This was also the second time he did a ceremonial first pitch. In 2005, he threw one before the Los Angeles Angels Anaheim and the Oakland A's game.
Afterwards, Freddie Roach said,
"There's going to be another bobblehead night on May 2. Only this time we're going to use Ricky Hatton's head."
Now, that's the kind of pitching Manny's coach usually delivers.
Here's the video of Pacquiao's pitch and interview.
======================================================
UPDATE May 3, 2009: Freddie Roach's words turn out to be prophetic as Pacquiao made Hatton's head bobble via a stunning 2nd round knockout.
If you want to receive my latest posts, please
subscribe to my full feed RSS
or have them delivered through email. Just enter your email address below and hit the Subscribe button.
Tags: baseball, filipino, manny pacquiao, pacman
11 Responses to "Manny Pacquiao's Ceremonial First Pitch and Bobblehead Doll"
Leave a Reply