2009 NBA Playoffs | First Round Celtics vs Bulls Game 6 3-OT Thriller
Category:
Basketball
I arrived home this morning coming from an exhausting 2-day training I have facilitated. It's a Friday and I immediately checked what NBA game is on ESPN. It was Game 6 of the first-round playoff series between the defending champion Boston Celtics and the Chicago Bulls. When I saw that its already on the second overtime period, I immediately dropped my bags to tune in. I felt like, "Wow, just in time". Nothing beats watching a LIVE game than just seeing it on replays or reading it on the news.
[ad#link_insidepost]
With seven seconds left in the second OT and the Celtics down by three points, Ray Allen hit his 9th trifecta (that three-pointer tied Vince Carter and Rex Chapman's playoff record). He finished with a career playoff -best 51 points! In the third OT, Joakim Noah managed to steal the ball from Paul Pierce and run the length of the court for the breakaway jam. That gave the Bulls a one-point lead and Pierce's 6th personal foul. That was a very foolish foul by "The Truth" since you know that Noah is going for a dunk in that play.
[ad#link_insidepost (2)]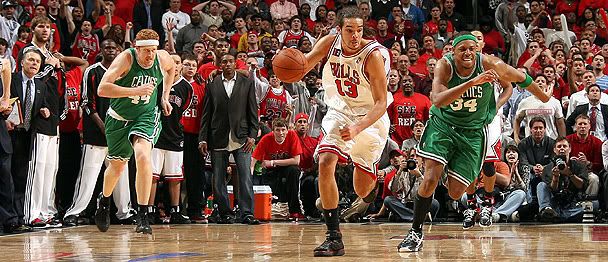 In the next play, Glen Davis set a bone-crunching pick for Eddie House that sent Lindsay Hunter to the floor. Ouchh! In the ensuing inbounds play, Kirk Hinrich caught the ball under the basket but missed the layup. Whew! Timeout for the Celtics. The game is like a soap opera with all its twists and turns. With the game on the line and down by one point, Rajon Rondo has the ball. With Derrick Rose guarding him, he shaked-and-baked and released a turnaround fade-away jumper. Showing why he is the Rookie of the Year, Rose stretched his arm and blocked the shot! Showing why he is still a rookie, Rose missed the next two-free throws. For the last play of the game, Rondo threw a prayer hoping to get the win but it missed its target. The final score: 128-127. The Baby Bulls have survived! John Salmons led them with 35 points.
That Game 6 was the third straight game in the series that went into overtime. The series has already reached seven overtimes and epic status. This is a one-for-the ages series that might just be the best NBA playoff series. Ever.
Game 7 is on Saturday (Sunday morning here in the Philippines) at the Boston Celtics TD Garden Arena. I just hope the game won't overlap with the Manny Pacquiao – Ricky Hatton bout. Hehehe… 😀
If you want to receive my latest posts, please
subscribe to my full feed RSS
or have them delivered through email. Just enter your email address below and hit the Subscribe button.
Tags: 2009 NBA playoffs, boston celtics, chicago bulls, NBA
3 Responses to "2009 NBA Playoffs | First Round Celtics vs Bulls Game 6 3-OT Thriller"
Leave a Reply