How to Withdraw Funds From PayPal to MetroBank
Category:
How To
Since its already the NBA playoffs, I decided to auction off some of my NBA trading cards at eBay. It has been proven that they sell well and end at a higher price during this time. That resulted to some PayPal money for me. Usually, I use the amount to buy NBA trading cards for my Shaq and DH12 collections but this time, I decided to withdraw it to my MetroBank savings account. My wife is expecting and we really need all the cash we can have to prepare for it.
You can actually withdraw your money to many Philippine banks aside from MetroBank. To add a bank to your PayPal account and see the list of bank codes to use, check out this post from pinoymoneytalk.
To start withdrawing funds from PayPal to MetroBank, login to your PayPal account, go to My Account > Withdraw.
Click on Withdraw funds to your bank account. It states that processing time is 2 – 4 business days, processing charge is FREE if the amount you'll withdraw is P7,000 or more while P50 if P6,999 or less.
Input the amount you want to withdraw and click Continue.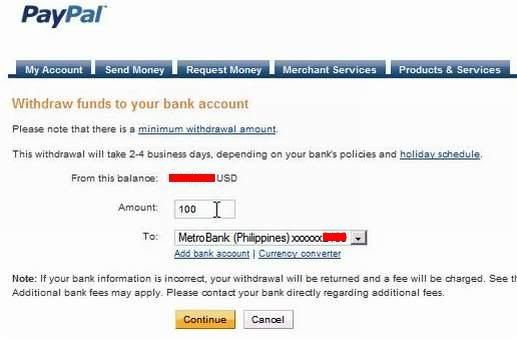 You will then be prompted to Review your withdrawal. I noticed that the exchange rate they're offering is lower by more than P1. Hmmm… Is it PayPal or is it MetroBank shaving off some of my hard-earned money? I decided to click on Submit and proceed with the transaction anyway.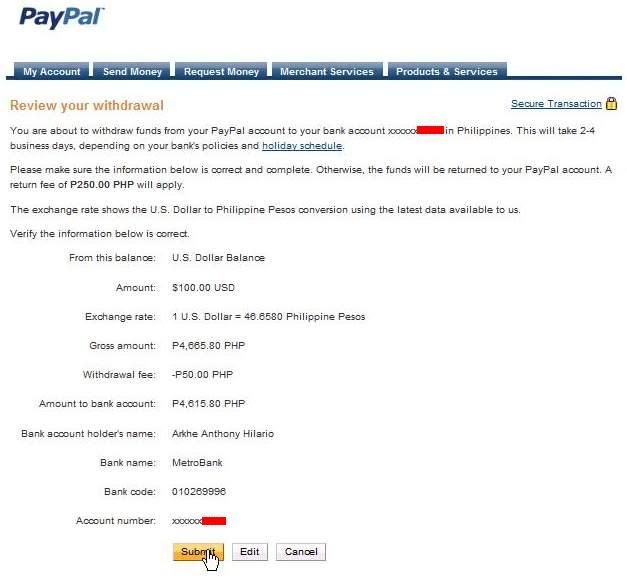 A message then appears saying that Your withdrawal request is being processed.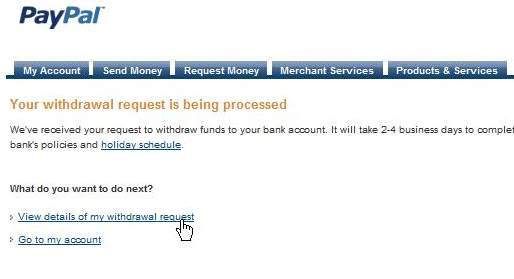 You can click on View details of my withdrawal request to check the status of your transaction.
I processed the transaction on April 18. On April 24, 6 days later, I checked my MetroBank savings account through ATM to see that the money has already been deposited to me. It might have been deposited earlier but no email was ever sent to me telling me about it.
Well, that's about it. If you want to sell or receive some cash online, you must have a PayPal account first. You can register by clicking on the PayPal logo below.
Aside from using your Philippine bank account, there are also other ways to withdraw your PayPal funds. Check out this post from The Lady Programmer.
If you want to receive my latest posts, please
subscribe to my full feed RSS
or have them delivered through email. Just enter your email address below and hit the Subscribe button.
Tags: eBay, metrobank, NBA cards, paypal
126 Responses to "How to Withdraw Funds From PayPal to MetroBank"
Leave a Reply