Dwight Howard Autographed NBA Cards Collection
Category:
Trading Cards
This season, Dwight Howard emerged as the NBA's Defensive Player of the Year, the youngest player to ever win that award at age 23. He also led the league in rebounds and blocks with averages of 13.8 and 2.9 respectively. Only four other players have achieved that feat, the last one being Ben Wallace in the 2001-02 NBA season.
[ad#link_insidepost]
I'm a big Shaquille O'Neal fan but his playing days are already numbered. The first time I saw Dwight play, I know he will be Shaq's successor to the Superman moniker. His chiseled, 6-foot-11, 265-pound frame and his incredible vertical leap makes him a legitimate candidate. Any more doubt about that has been erased due to his superb season.
That's why I also decided to collect his trading cards. These are Dwight Howard's autographed cards I have managed to acquire since 2006.
This is a TRUE rookie card from 04-05 SP Authentic serial #d 631/999. Also included is its redemption card.
These are autographed "glass" cards…
8×10 portrait cards from 05-06 UD Portraits. The card at the right is the rarer parallel version.
This is serial #d 100/100! Too bad it's a sticker auto.
other cards…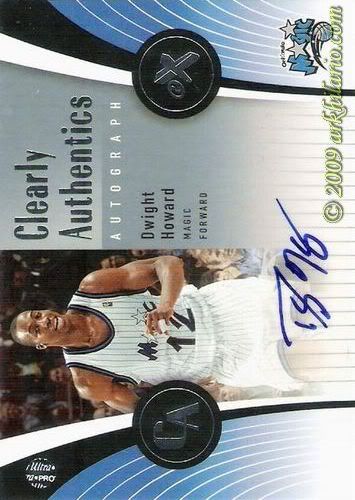 Check out also my autographed 2007-08 Exquisite Noble Nameplates #d/25 Dwight Howard.
I intend to collect as many as I can. I'll just update this post from time to time whenever I have acquired a new one.
In case you've missed it, check out also My Dwight Howard Jersey and Patch Cards and My Dwight Howard Rookie Cards.
If you want to receive my latest posts, please
subscribe to my full feed RSS
or have them delivered through email. Just enter your email address below and hit the Subscribe button.
Tags: dwight howard, NBA cards, superman
7 Responses to "Dwight Howard Autographed NBA Cards Collection"
Leave a Reply