2009 NBA Playoffs | Lebron vs Kobe Dream Match Fails to Become a Reality
Category:
Basketball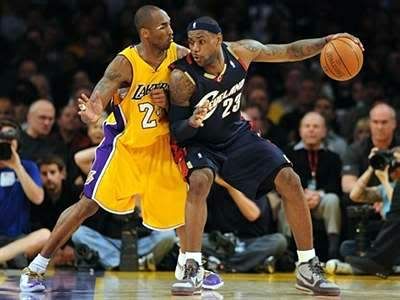 There will be no Lebron James vs Kobe Bryant NBA Finals showdown this year. No "The King" vs "The Black Mamba". No face-off between the reigning MVP and last year's MVP. No box-office extravaganza for the NBA executives. And finally, we will be seeing no more of those annoying Nike puppet commercials.
Superman Dwight Howard made sure of that. He delivered with 40 points and 14 rebounds as the Orlando Magic won Game 6 of the Eastern Conference Finals against the Cleveland Cavaliers 103-90.
After the game, Lebron James immediately left the arena heads down and shoulders slumped straight to the locker room as confetti rained down on the celebrating Dwight Howard and his teammates. He did not even bother attending the post-game conference. He was simply wrecked. Poor Lebron.
Despite giving his all by averaging an amazing 38.5 points, 8.3 rebounds and 8.0 assists in the series, it was still not enough. Lebron might be gifted with pure athletic ability but basketball is a team sport and one man alone can't do it all by himself. Although he plays 1-on-5 type of basketball against opposing teams, he just can't do it on a nightly basis. In short, he needs help big-time.
The Cleveland Cavaliers ran-away with an NBA best 66-16 win-loss record during the regular season as they steamrolled over opponents. But during the NBA playoffs where the stakes are higher, their weakness was exposed particularly against the Orlando Magic. Their frontcourt of Zydrunas Ilgauskas, Anderson Varejao and Ben Wallace can't contain Dwight Howard. Nobody can't stop the raining of three point bombs being thrown from all angles by Rashard Lewis, Hedo Torkuglo, Rafer Alston and Michael Pietrus. And on top of that, Lebron James' supporting cast provided everything except, well, support.
By failing to advance to the NBA Finals and bring home the crown, Lebron James' "legendary" shot at the end of Game 2 has now been relegated to just a "great" shot. His spectacular 37 points, 14 rebounds and 12 assists triple-double performance in Game 5 is now just that, a spectacular stat line. They became insignificant to the unfolding drama of the NBA playoffs and were reduced to footnotes to Lebron's still young legacy.
I feel great pity for Lebron James. Nobody can criticize him for lack of effort or leadership. In the end, a bunch of "Jokers" was the one who failed their "King".
If you want to receive my latest posts, please
subscribe to my full feed RSS
or have them delivered through email. Just enter your email address below and hit the Subscribe button.
Tags: 2009 NBA playoffs, dwight howard, kobe bryant, lebron james
12 Responses to "2009 NBA Playoffs | Lebron vs Kobe Dream Match Fails to Become a Reality"
Leave a Reply