2009 NBA Finals Lakers vs Magic Game 2 | Courtney Lee Misses Alley-oop Shot
Category:
Basketball
It was an exciting Game 2 and close all throughout.
[ad#link_insidepost]
With seconds remaining and the game tied at 88-all, Kobe Bryant has the ball for the Lakers' final shot. Going straight to the basket for another heroic moment, Kobe's shot was blocked from behind by Hedo Torkuglo. The ball went out of bounds as time expires. Or so we thought.
After a brief huddle, the game officials decided that there was still .6 second left on the shot clock. That's enough time for the Orlando Magic to execute a last play. Given the amount of time, I was thinking, "This will be an alley-oop play for Dwight Howard". After all, the Magic has already won a game 2 years ago with .8 second remaining with an alley-oop for Dwight. Watch the video here to refresh your memory.
[ad#link_insidepost (2)]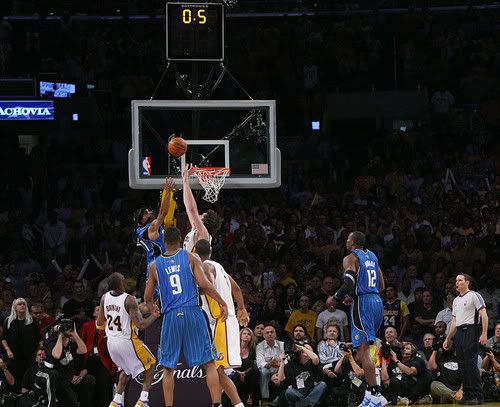 So, in a perfectly-planned play by Orlando Magic coach Stan Van Gundy, Hedo Torkuglo made a perfect alley-oop pass to… Courtney Lee! (surprise, surprise…) With a perfect screen from Rashard Lewis, Lee perfectly escaped from Kobe's defense to catch the pass. However, the one thing that's just not perfect is his layup. It was a little too strong and bounced off the rim.
Maybe he was distracted by Pau Gasol, maybe it was rookie jitters or maybe it was just not meant to be. I don't know. All I know is the Orlando Magic is now down 0-2 after losing 101-96 in overtime and Courtney Lee has become the goat.
Game 3 is on June 9, Tuesday at the Amway Arena, Orlando, Florida. Here's the Philippine TV schedule.
HALFTIME SHOW: The couple famous for their quick-change act has upgraded their show to include some appearing/disappearing objects (flowers, bottles). When the man quick-changed into a Lakers jersey/shorts uniform, I was also expecting the lady to quick-change into a Laker girl uniform. Too bad it did not happen. 😀
If you want to receive my latest posts, please
subscribe to my full feed RSS
or have them delivered through email. Just enter your email address below and hit the Subscribe button.
Tags: 2009 NBA finals, courtney lee, dwight howard, la lakers, NBA, orlando magic
Leave a Reply