2009 NBA Finals Lakers vs Magic Game 4 | Derek Fisher Makes Two Clutch 3-Pointers
Category:
Basketball
LA Lakers veteran point guard Derek Fisher has been doing this all his playoff career. That is, hit three-point shots. In fact in the history of the NBA Finals, he is third all-time in most treys made behind Robert Horry and Michael Jordan. He is best well-known for hitting this amazing three-point shot with .4 second left in the shot clock.
[ad#link_insidepost]
In Game 4 of the NBA Finals, he did it again. Twice.
With the Lakers trailing by three points with 10.8 seconds left, Fisher hit a three-pointer which tied the score at 87 and helped sent the game into overtime.  It was the second overtime game in the series after the Game 2 thriller. Then in the OT period, his three-pointer with 31.3 seconds to go put his team ahead 94-91. The LA Lakers eventually wrapped up the game with a final score of 99-91.
[ad#link_insidepost (2)]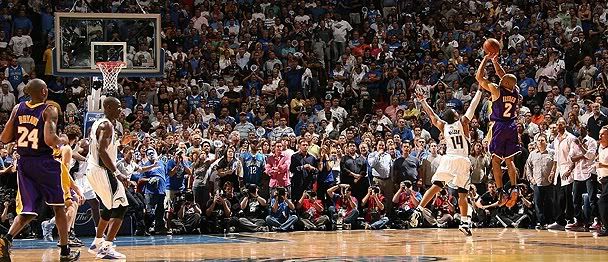 Superman Dwight Howard of the Orlando Magic was spectacular all-night long on the defensive end with 21 rebounds and set an NBA Finals record with 9 blocks. However, it was his kryptonite, the free-throw shot that helped doom his team. He missed two crucial ones in the closing seconds before the Derek Fisher three-point dagger. He made just 6 of 14 free-throws for the game.
The Lakers is now up 3-1 in the series. In the history of the NBA Finals, no team has ever come back from that deficit to win the championship.
Game 5 is on June 14, Sunday at the Amway Arena, Orlando, Florida. Here's the Philippine TV schedule.
HALFTIME SHOW: The quick-change couple must have jinxed the Orlando Magic. They performed at halftime during the Game 2 overtime thriller which the Lakers won. Here in Game 4, they performed again. And the Magic lost in overtime again. The man also quick-changed again into a jersey/shorts uniform but this time, wearing the Magic colors. But the lady still did not quick-change into a cheerleader uniform. 😀
If you want to receive my latest posts, please
subscribe to my full feed RSS
or have them delivered through email. Just enter your email address below and hit the Subscribe button.
Tags: 2009 NBA finals, la lakers, NBA, orlando magic
Leave a Reply