Where to Watch UFC 99 in Live Stream Online for Free
Category:
MMA
UFC 99: The Comeback is scheduled for June 13, 2009 (tomorrow, Sunday here in the Philippines). It will be held for the first time in Germany.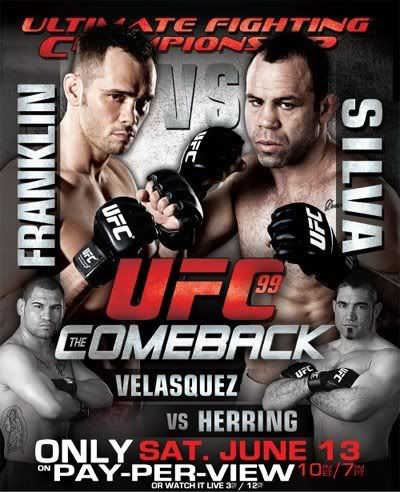 The main event features former UFC  middleweight champion Rich "Ace" Franklin and Wanderlei "The Axe Murderer" Silva at a catch weight of 195 lbs. However, the event is titled as The Comeback because Mirko "CroCop" Filipović is returning in the UFC for the first time since his unanimous decision loss to Cheick Kongo at UFC 75 in 2007. He will fight Mustapha Al-turk at the heavyweight division.
Where do I watch the event?
Solar Sports has been known to broadcast UFC fights live but apparently, they're not doing it anymore. They will however broadcast the Miguel Cotto vs Joshua Clottey bout at 10:00 AM tomorrow. A quick scan of the cable TV guide online showed that Balls will be broadcasting UFC 99 live tomorrow, June 14 at 10:00 AM. But we are on Sky Cable and they don't have that channel so I looked for online sites that offer  the UFC 99 in live stream. Most of the sites I have visited requires you to register and pay. However, I have found one site that is sure to give us the live stream for free. Check it out here.
My result forecast?
Rich Franklin has the ability to submit opponents while Wanderlei Silva is known for his aggressive strikes which can knockout opponents. I pick Silva to win via 2nd round KO.
Mirko Filipović meanwhile has those long legs which are famous for bringing down large fighters. I haven't seen Mustapha Al-turk fight yet and I don't even know him so I pick Filipović to win via 1st round KO.
If you want to receive my latest posts, please
subscribe to my full feed RSS
or have them delivered through email. Just enter your email address below and hit the Subscribe button.
Tags: mirko cro cop, mustapha al-turk, rich franklin, UFC 99, wanderlei silva
Leave a Reply