Kobe Bryant as the New NBA Logo?
Category:
Basketball
The current NBA logo has been used since time immemorial. It is actually a silhouette of LA Lakers great Jerry West. He was even named as "The Logo" because of this although not while he was still playing. He was "Mr. Clutch" during his playing days.
Here's purportedly Jerry West's image where the logo was taken from.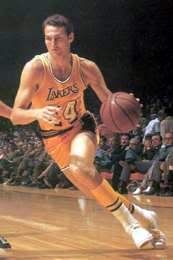 It has long been suggested that the logo should be changed to reflect today's state of the NBA and its players.
Black guys dominate the NBA. John Stockton, the last player seen wearing short shorts has already retired in 2003. Today's game is more high-flying and above the rim and relies more on individual athletic ability.
After getting his 4th NBA championship ring today and 1st Finals MVP Award with averages of 32 points, 6 rebounds and 7 assists, who better to represent the new NBA logo than Kobe Bryant?
Kobe is also a Laker. Maybe Jerry West wouldn't mind.
If you want to receive my latest posts, please
subscribe to my full feed RSS
or have them delivered through email. Just enter your email address below and hit the Subscribe button.
Tags: 2009 NBA finals, jerry west, kobe bryant, NBA, NBA logo
15 Responses to "Kobe Bryant as the New NBA Logo?"
Leave a Reply