Barack Obama vs The Fly
Category:
Humor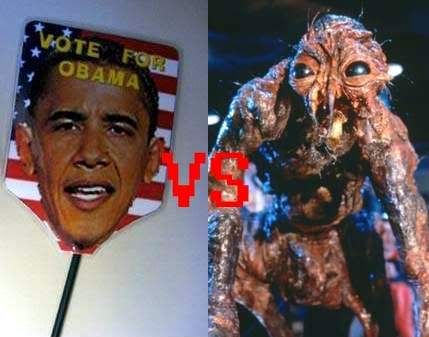 [ad#link_insidepost (2)]
Well, it was not exactly Jeff Goldblum's The Fly character that US President Barack Obama has encountered. He will probably need more than a fly swatter to squish it.
[ad#link_insidepost]
It was a smaller and more harmless but who says Obama wouldn't hurt such defenseless creature?
For bothering him while explaining his financial regulatory proposals in a TV interview with CNBC's John Harwood, the poor fly was swatted by Obama in one ninja-like motion. Obama said afterwards, "That was pretty impressive, wasn't it? I got the sucker".
People for the Ethical Treatment of Animals (PETA) wishes Obama hadn't swatted that fly. According to them, "He isn't the Buddha, he's a human being, and human beings have a long way to go before they think before they act".
Oh.
If you want to receive my latest posts, please
subscribe to my full feed RSS
or have them delivered through email. Just enter your email address below and hit the Subscribe button.
Tags: barack obama, fly, PETA
2 Responses to "Barack Obama vs The Fly"
Leave a Reply