Shaq, As An MMA Fighter? Calls Out Giant Hong Man Choi
Category:
MMA
Shaquille O'Neal has always been known as a prankster and a clown. Always trying to be funny and to be the life of the party. When he challenged giant MMA fighter Hong Man Choi to a fight in this video, I don't know if he is really serious or this is just one of his jokes.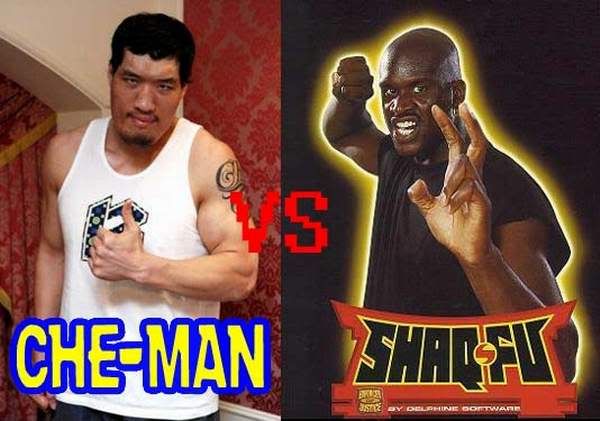 Outside of the basketball court, Shaq can rap, dance, act and tweet. He even works as a reserve law enforcer. So why not fight in an MMA event?
Hong Man Choi AKA "Che Man", "The Techno Goliath""Korean Collossus" has been fighting MMA since 2005. He stands 7″2′ and weighs 330 lbs. and
Shaq AKA "Big (insert anything here)" has no prior MMA experience except maybe starring in a video game titled Shaq-Fu. But he has been undergoing MMA training for some time now at Jonathan Burke's Gracie Gym in Orlando. He stands 7″1′ and weighs 325 lbs.
They are pretty even. They are both giants. The ring might collapse under the weight of these goliaths. But this is a fight MMA and NBA fans alike will watch in delight.
Here's the video of Shaq training MMA-style… with some dancing. He's just having fun.
Here are videos of Hong Man Choi fighting.
vs Fedor Emelianenko
vs Mirko Cro Cop
vs Bob Sapp
Shaq is Superman in the basketball court, I wonder what his MMA name might be?
If you want to receive my latest posts, please
subscribe to my full feed RSS
or have them delivered through email. Just enter your email address below and hit the Subscribe button.
Tags: hong man choi, shaq-fu, shaquille o'neal, superman
4 Responses to "Shaq, As An MMA Fighter? Calls Out Giant Hong Man Choi"
Leave a Reply