Kobe and Lebron Pitted Against Each Other for 2009 ESPY Best Male Athlete and Best NBA Player Awards
Category:
Basketball
The Lebron James vs Kobe Bryant dream matchup might have failed to realize in this year's NBA Finals but who says the competition between the two has stopped?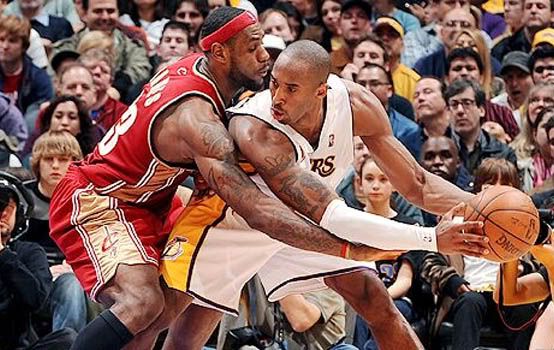 Online voting for the 2009 ESPY (Excellence in Sports Performance Yearly) Awards has already started. ESPYs as it is popularly known is an annual sports event created by TV network ESPN honoring various individuals and teams for their achievements.
For this year's edition, Kobe and Lebron are pitted against each other in the Best Male Athlete Award. The award is presented to the male sportsperson, irrespective of nationality or sport contested, adjudged to be the most outstanding. Swimmer Michael Phelps and NASCAR driver Jimmie Johnson round up the list of nominees.
The two superstars are also competing in the Best NBA Player category. Lebron "The King" James was adjudged the best individual player in getting his 1st NBA MVP Award this season but Kobe "The Black Mamba" Bryant one-upped him by getting his 4th championship ring and 1st NBA Finals MVP Award. I don't know about you but I'll choose Kobe's award over Lebron's anytime. What good is a regular-season MVP award if you have no ring to accompany it? Think of Karl Malone, Charles Barkley, Allen Iverson and Dirk Nowitzki. Dwight "Superman" Howard (who foiled that dream matchup) and Dwyane "Flash" Wade round up the list of nominees.
Kobe was also nominated for the Best Championship Performance Award for leading the LA Lakers to its 15th NBA title. Other nominees were Cole Hamel (MVP of baseball's 2008 World Series), Michael Phelps (a record eight gold medals at the 2008 Beijing Olympics) and the tandem of Kerri Lee Walsh – Misty May-Treanor (gold medalists in beach volleyball at both the 2004 and 2008 Beijing Olympics).
To vote for your favorite NBA players, register here.
Online voting will close on July 11, 2009  and the 2009 ESPY Awards is set on July 19 at Nokia Theatre, Los Angeles California to be hosted by actor Samuel L. Jackson.
===================================================

UPDATE July 17, 2009: Lebron James is 2009 ESPYs Best NBA Player Awardee. Click on the link to read more updates.
If you want to receive my latest posts, please
subscribe to my full feed RSS
or have them delivered through email. Just enter your email address below and hit the Subscribe button.
Tags: ESPN, kobe bryant, lebron james, NBA
Leave a Reply