NBA Free-Agent Signings | Ben Gordon to Pistons
Category:
Basketball
Free agent guard Ben Gordon of the Chicago Bulls has reportedly agreed to play for the Detroit Pistons starting this coming NBA season for a five-year, $55 million deal. He has been offered $50 million by his old team but he refused it.
Ben Gordon came into the league in the 2004 NBA Draft as the 3rd pick overall (Dwight Howard was 1st) of the Chicago Bulls after leading the University of Connecticut Huskies to the 2004 NCAA Championship. He immediately made an impact when he became the first rookie in NBA history to be awarded the NBA Sixth Man Award.  He has also led the Bulls in scoring each of the past 4 seasons and became a full-time starter this past season. He is the Bulls' all-time leader in three point field goals passing Scottie Pippen for that honor in 2008.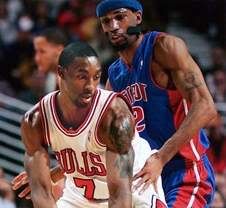 Playing for the Detroit Pistons is truly intriguing because I think Ben Gordon has a better chance to flourish in Chicago. Although the team lost in the 1st round of the 2009 NBA playoffs, the players showed signs of promise and maturity by taking the Boston Celtics on a memorable Game 6 3-OT thriller. Their core players are still young  (Derrick Rose, Luol Deng, Joakim Noah) and has their best years ahead of them.
Meanwhile, the Detroit Pistons are in a rebuilding mode. Last year's trade that sent Chauncey Billups and Antonio McDyess to the Denver Nuggets for Allen Iverson proved to be futile as the team became disorganized after that. They are currently looking to trade Richard Hamilton and Tayshaun Prince. Charlie  Villanueva has also committed to play for them. In the Detroit Pistons' guard rotation, I don't know where Gordon will fit. The Pistons already have All-Star guards Allen Iverson and Richard Hamilton and  rising young prospect Rodney Stuckey.  He might be willing to accept his role as a 6th man because he has a history of thriving in that.
It all remains to be seen.
UPDATE October 28, 2009: Follow the Pistons during the 2009-010 NBA season and watch their games in online streaming format.
If you want to receive my latest posts, please
subscribe to my full feed RSS
or have them delivered through email. Just enter your email address below and hit the Subscribe button.
Tags: ben gordon, chicago bulls, detroit pistons, free-agents, NBA
5 Responses to "NBA Free-Agent Signings | Ben Gordon to Pistons"
Leave a Reply