This is why Shaquille O'Neal is a media darling.
In today's press conference formally introducing Shaq as the newest member of the Cleveland Cavaliers, team general manager Danny Ferry became a victim of a prank. Shaq narrated that when he got a call from Ferry, he played the name many times in his mind but can't seem to recall who the man was. When he checked the web to find out, this picture showing the two in a very uncompromising way showed up.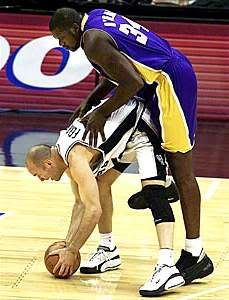 Danny Ferry is a former NBA player who played most of his career for the Cleveland Cavaliers. The picture was taken when Ferry was playing for the San Antonio Spurs and Shaq was still with Kobe as a Laker.
Shaq claimed that it was the first picture that came out of Google. I did a Google Image search myself for the keywords "Danny Ferry" and true enough, it's on the first page.
Watch the press-conference video below. It truly brought the house down.
If you want to receive my latest posts, please
subscribe to my full feed RSS
or have them delivered through email. Just enter your email address below and hit the Subscribe button.
Tags: cleveland cavaliers, danny ferry, shaquille o'neal
12 Responses to "Danny Ferry Shaq'd!"
Leave a Reply