NBA Free-Agent Signings | Hedo Turkoglu to Raptors
Category:
Basketball
When forward Jermaine O'Neal was brought to the Toronto Raptors before the start of the 2008-09 season, many thought that his rebounding and defense will immediately provide support to the team's front court of Andrea Bargnani and Chris Bosh. For some reasons, it did not work. By the All-Star break, O'Neal was traded to the Miami Heat for another forward, Shawn Marion. Still, it was not enough for the Raptors to make the playoffs.
In the current free-agency market, the team managed to net another forward, Hedo Turkoglu of the Orlando Magic to the tune of a a five-year, $53 million deal. It was sudden as Turkuglo reportedly already gave a verbal agreement with the Portland Trailblazers earlier.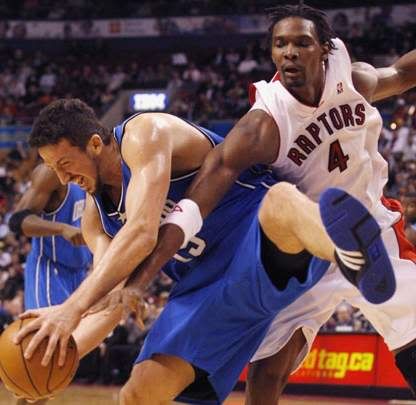 Was it about the money? Maybe. The Raptors' offer is $3 million more than the Trailblazers'. In getting Turkoglu, the Raptors is consequently giving-up on resigning Shawn Marion due to salary-cap restrictions.
Hedo Turkoglu is a 6'10" forward and nine-year veteran who was instrumental in the Orlando Magic's 2009 NBA Finals series with the eventual champion LA Lakers. He is a point-forward, one who handles the ball exceptionally-well for his size and create matchup problems for the other teams due to his passing and shooting and ability to direct the offense. He was the NBA's Most Improved Player Award for the 2007–08 NBA season
After the failed Bargnani-Bosh-O'Neal and Bargani-Bosh-Marion frontcourt experiments, will the Bargani-Bosh-Turkoglu work this time? I don't know. We just hope that Hedo will bring some of his Magic from Orlando to the Raptors.
=======================================================
UPDATE October 28, 2009: Will Hedo make a difference for the Raptors and help them make the Finals like he did with the Magic?
Follow the Raptors and watch their live streaming games for the duration of the  2009-010 NBA season.
If you want to receive my latest posts, please
subscribe to my full feed RSS
or have them delivered through email. Just enter your email address below and hit the Subscribe button.
Tags: free-agents, hedo turkuglo, NBA, toronto raptors
Leave a Reply