Where to Watch UFC 100 Streaming Online Free
Category:
MMA
In a historic event that promises to be the biggest in the history of the mixed-martial arts world, UFC celebrates its 100th show with a star-studded cast of fighters. It is scheduled for July 11, 2009 (July 12, Sunday here in the Philippines) at the Mandalay Bay Events Center in Las Vegas, Nevada.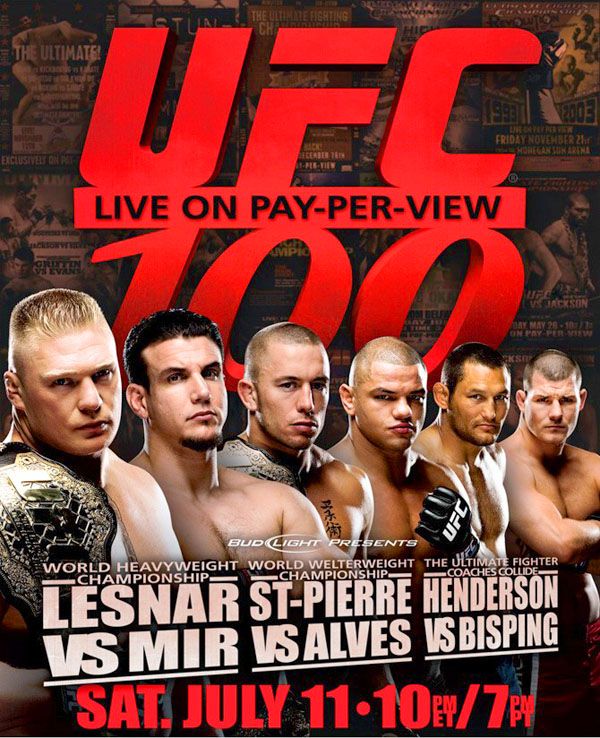 The main event will feature a rematch between UFC Heavyweight Champion, Brock Lesnar, and UFC Interim-Heavyweight Champion, Frank Mir for a title unification bout. The co-main event will feature Yahoo! Sports' top pound-for-pound fighter Georges St-Pierre, defending his Welterweight Championship against MMAWeekly.com's 2008 Fighter of the Year, Thiago Alves. The third match on the card will be between two top middleweight contenders, Dan Henderson and Michael Bisping. The two served as opposing coaches on the ninth season of The Ultimate Fighter, The Ultimate Fighter: United States vs. United Kingdom, with Henderson leading Team USA and Bisping heading Team UK.
Other cards for the event are as follows:
[ad#link_insidepost]
Main Cards (to be shown on TV)
Welterweight bout: Jon Fitch vs. Paulo Thiago
Middleweight bout: Yoshihiro Akiyama vs. Alan Belcher
Preliminary Cards (not to be shown on TV)
Light Heavyweight bout: Mark Coleman vs. Stephan Bonnar
Lightweight bout: Mac Danzig vs.Jim Miller
Light Heavyweight bout: Jon Jones vs. FJake O'Brien
Welterweight bout: Dong Hyun Kim vs. TJ Grant
Middleweight bout: C.B. Dollaway vs. Tom Lawlor
Lightweight bout: Matt Grice vs. Shannon Gugerty
Where do I watch the event?
[ad#link_insidepost]
If you have the money, you can watch it via pay-per-view on Saturday, July 11 – 10PM ET / 7PM through Yahoo! Sports or at the UFC 100 web site. Charge starts at $44.95.
Here in the Philippines, Solar Sports has been known to broadcast UFC fights LIVE but apparently, they're not doing it anymore. Balls Channel will be broadcasting UFC 100 LIVE on Sunday, July 12 at 10:00 AM. Studio 23 will have a REPLAY at 10:30 PM. But our Sky Cable here don't have that channel so I looked for sites that offer UFC 100 live streaming online free.
Where do I watch UFC 100 live streaming online free?
A FREE one has not been set-upped yet. I'll update this post whenever it is ready. Just be sure to come back here 1 – 2 hours before UFC 100 starts LIVE. Please bookmark this site so you won't forget it.
From Dana White's twitter page,
"UFC 100 will air live, free of charge, on SKY Channel 433 as well as on UFC.com"

"Irish fans can see UFC 100 free and live on Setanta Ireland Channel!!!!!"
Wow, good for them.
=========================================================
UPDATE July 13, 2009: If you missed the live streaming online, you can watch here the videos of the following fights:
UFC 100 Video | Brock Lesnar vs Frank Mir
UFC 100 Video | Georges St. Pierre vs Thiago Alves
UFC 100 Video | Dan Henderson vs Michael Bisping
Or you can watch here the replay on online streaming:
UFC 100 Video | Replay on Streaming Online Free
If you want to receive my latest posts, please
subscribe to my full feed RSS
or have them delivered through email. Just enter your email address below and hit the Subscribe button.
Tags: brock lesnar, dan henderson, frank mir, georges st-pierre, michael bisping, thiago alves, UFC 100
2 Responses to "Where to Watch UFC 100 Streaming Online Free"
Leave a Reply