I Finally Made $100 From Google Adsense!
Category:
Personal
When I made my first ever blog two years ago and subsequently wrote 69 blog posts at my second site, I have no real intention to make money. I just want to share to others random thoughts culled from the deep recesses of my existence. But after reading success stories of bloggers earning enough to pay the bills, I became curious and admit that I became somehow jealous. I was like, "Kung kaya nila, bakit di ko subukan?" I decided to invest on buying my own domain since I was told that you can have more control and can make money faster.
On February 6, 2009, this site was born. However, I managed to launch the site and make my first post on February 12. Read The Ark Is Now Ready To Sail! to know the troubles I have gone through.
There are actually many ways to make money online. As it is the best, I decided to use Google adsense (GA) and integrate their ads to this site. But my earnings were so slooow. I managed to reach $10 around 3rd week of March. That's after 6 weeks. I experimented with my ad placements and read more blogs on SEO (search-engine optimization). I did some on-page and off-page optimizations as well.
Then on May 1, 2009, I was given my Google adsense PIN. The PIN is supposed to verify the accuracy of my contact information and to help ensure that I will receive my GA payments. By April 30, I already have $23.39 which means that I barely make 30 cents per day. But it's OK, I know that there's no shortcut to success. I just write and write and did SEO. I have computed that if this trend continues, I might be able to reach $100 within 10 months or less.
Then May 18 came. It was the very first time I earned more than $1 in one day with $1.29. It was the day after Hayden Kho helped me attract traffic to this site. Well, it is proven time and again that to attract traffic to your site from the search engines, you have to write about the current hot topics coupled with good content.
It also helped that my posts are now indexed by the search engines within minutes. During the first 3 months, my blog posts usually appear on SERPs (search engine results page) after one week. And by then, the topic I have written about has already cooled-off which is not good for me.
My countless sleep-deprived nights doing SEOs are now paying off. I now have a Page Rank (PR) of 2 and able to maintain a fair number of traffic from the search engines. For the month of June, I made $43.67 and could be even more if not because of the 4 days I lost because I exceeded the bandwidth limit of this site. On average, I am now earning $2.5 per day for the past 2 weeks. Not bad I think considering that I only maintain one site.
And today, exactly 5 months after My Ark Full of Worry-Free Thoughts 3.0 was born, I made my first-ever $100. It means that I am already eligible for payment by Google. It took me just 5 months instead of the 10 I originally expected. Here's the screenshot of my Google adsense: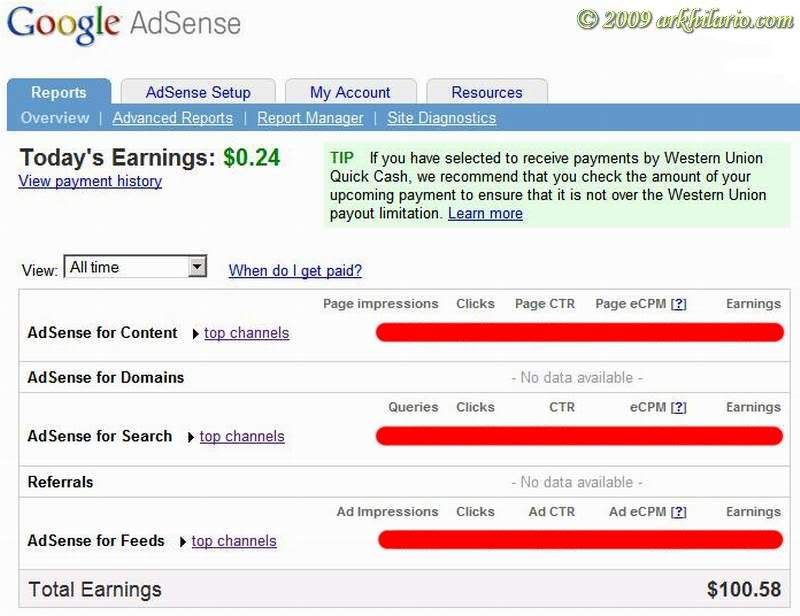 Sorry for the red strips. I am not allowed to divulge my adsense data except for the total earnings. But I assure you, this is real. This is not an April Fool's Day joke. 😀
I hope to make at least $80 this month and finally make more than $100 per month thereafter. Wish me luck. I'll share some tips someday when I am already doing real good.
If you want to receive my latest posts, please
subscribe to my full feed RSS
or have them delivered through email. Just enter your email address below and hit the Subscribe button.
92 Responses to "I Finally Made $100 From Google Adsense!"
Leave a Reply