NBA Free-Agent Signings | Rasheed Wallace to Celtics
Category:
Basketball
Forward Rasheed Wallace of the Detroit Pistons has finally committed to play for the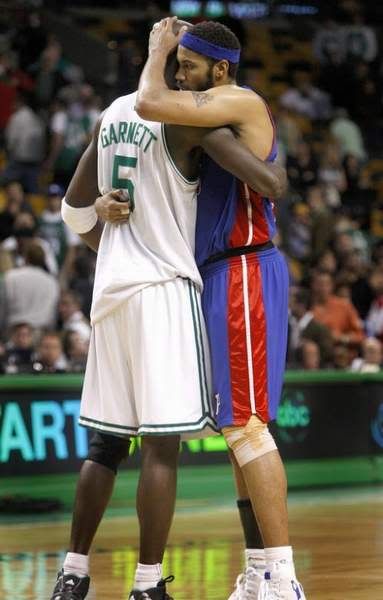 Boston Celtics next season agreeing on a two-year deal that  starts at the mid-level exception (expected to be about $5.6 million to $5.8 million).
[ad#link_insidepost]
In Wallace, the Boston Celtics are hoping to add a versatile player that is tough, a hard-nosed defender and is a scoring threat from anywhere on the court. He is however volatile and hot-headed leading the NBA in technical fouls for many seasons (even setting a record 41 in 2000–2001).
But he has proven that he can be a very valuable addition to a roster  due to his strong desire to win. He was a big factor to the Detroit Pistons winning the 2004 NBA Championship. He is also a big friend of Kevin Garnett which might help him rein in his silly outbursts.
With Rasheed Wallace playing center, the Boston Celtics will have a possible starting lineup of Kevin Garnett (PF), Paul Pierce (SF), Ray Allen (SG) and Rajon Rondo (PG). Wow, the Boston Celtics looks to be a very formidable team on paper next season!
It's a classic case of the rich getting richer.
=======================================================
UPDATE October 28, 2009: Will Kevin Garnett and the Boston Celtics reclaim their throne with a front court boost in 'Sheed?
Watch the Celtics' NBA live streaming games the Raptors for the duration of the  2009-010 NBA season.
If you want to receive my latest posts, please
subscribe to my full feed RSS
or have them delivered through email. Just enter your email address below and hit the Subscribe button.
Tags: boston celtics, free-agents, NBA, rasheed wallace
6 Responses to "NBA Free-Agent Signings | Rasheed Wallace to Celtics"
Leave a Reply