Shaq's "Beat It" Tribute to Michael Jackson
Category:
Basketball
Shaquille O'Neal might currently be in China on a promotional tour for shoe company Li Ning but he found time to twitter his love for Michael Jackson who recently passed away. Apparently, he is a fan. And a BIG fan at that.
This is what Shaq tweeted.
The link points to a music video for "Beat It" Shaq and his team mate Damon Jones made when they were still playing for the Miami Heat. Yes, the video is old but Shaq dug it out from his vault to release it as his personal tribute to the "King of Pop".
Here's the Shaq "Beat It" tribute video:
Shaq was in his usual goofy self. They were even holding plastic knives to reenact the battle scene in the original video for the song. But you know what? What I like most about this video is the presence of cute babes in bikinis.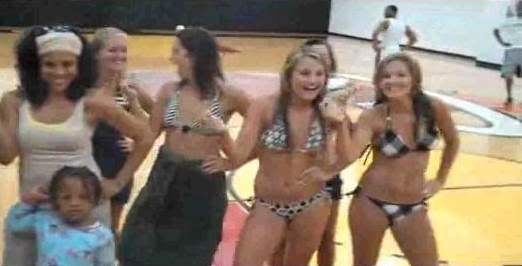 Why, it is the first time I've seen cute babes in bikinis in a basketball court.
If you want to receive my latest posts, please
subscribe to my full feed RSS
or have them delivered through email. Just enter your email address below and hit the Subscribe button.
Tags: beat it, michael jackson, shaquille o'neal, twitter
4 Responses to "Shaq's "Beat It" Tribute to Michael Jackson"
Leave a Reply