Where to Watch UFC 101 Live Streaming Online Free
Category:
MMA
With the recent pay-per-view and ticket sales success of UFC 100, the Ultimate Fighting Championship (UFC) organization looks to continue its onslaught in the mixed-martial arts (MMA) circle with UFC 101: Declaration.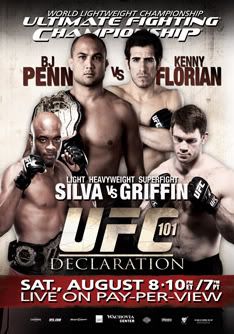 The show is scheduled for August 8, 2009 (August 9, Sunday here in the Philippines) at the Wachovia Center in Philadelphia, Pennsylvania, USA.
The main event will feature B.J. Penn defending his lightweight championship belt against Kenny Florian. Penn is currently ranked by Sherdog as the #1 Lightweight fighter in the world and by MMAWeekly as the #3 lightweight fighter in the world. On the other hand, Florian is the the #1 contender for the Lightweight Championship.
The co-main event will feature a non-title light-heavyweight bout between Anderson Silva and Forrest Griffin. Silva is the current UFC Middleweight Champion and holds the record for the longest winning streak of 9 straight wins in the UFC. He moves up to light heavyweight in this bout. On the other hand, Griffin is the former UFC Light Heavyweight Champion. He is currently ranked as the #4 light heavyweight fighter in the world by Sherdog, and #3 by MMAWeekly.
Other cards for the event are as follows:
Main Cards (to be shown on TV)
Welterweight bout: Amir Sadollah vs Johny Hendricks
Middleweight bout: Kendall Grove vs Ricardo Almeida
Lightweight bout: Josh Neer vs Kurt Pellegrino
Preliminary Cards (not to be shown on TV)
Lightweight bout: Shane Nelson vs Aaron Riley
Welterweight bout: Tamdan McCrory vs John Howard
Middleweight bout: Thales Leites vs Alessio Sakara
Welterweight bout: Matt Riddle vs Dan Cramer
Lightweight bout: George Sotiropoulos vs George Roop
Welterweight bout: Jesse Lennox vs Danillo Villefort
Where do I watch UFC 101 in live streaming online fre?
If you have the money, you can watch it LIVE via pay-per-view on Saturday, August 8 – 7PM PT / 10PM ET / 3AM BST through Yahoo! Sports or at the UFC 101 web site. Charge starts at $44.95.
Here in the Philippines, Solar Sports has been known to broadcast UFC fights LIVE but apparently, they're not doing it anymore. Balls Channel will be broadcasting UFC 101 LIVE on Sunday, August 9 at 10:00 AM. Studio 23 will have a REPLAY at 10:30 PM. But our Sky Cable here don't have that channel so I looked for sites that offer UFC 101 live streaming online free.
A FREE one has not been set-upped yet. I'll update this post whenever it is ready. You can bookmark this site or have the update delivered through your mail box. Just enter your email address below and click the Subscribe button.
UFC 101: Declaration has already started. These are the FREE online streaming videos. Just select from any of them. I suggest that you use low quality resolution if you have a slow internet connection. If they won't play due to the sheer number of users watching the UFC 101 streaming videos, don't worry, I'll constantly update this and look for ONLINE ones for your viewing pleasure. Please bear with me.
1st UPDATE: Anderson Silva toyed with Forrest Griffin all round long. He's untouchable. Silva finished the fight with a right to Griffin's chin. It's Silva by 1st Round TKO!
2nd UPDATE:
Round 1: BJ Penn connected with a right at the beginning of Round 1. Florian looking for the takedown but can't land it. Penn connecting some punches. I think it's 10-9 for Penn.
Round 2: Florian finally connected with a kick. He's more active this time but Penn has good takedown defense. I think it's 10-9 for Florian.
Round 3: Florian's elbow is hitting Penn. But Penn's punches are more accurate. I think it's 10-9 for Penn.
Round 4: They clinched again and Penn landed some solid punches before taking-down Florian. Penn finally got the mount and rained strikes on Florian. The end is near. Penn got the rear-naked choke and Florian tapped. It's a submission win by BJ Penn!
That's it folks. If you missed the show LIVE, you can still watch the UFC 101 replay.
[ad#image_afterpost]
You can also watch the following videos:
Anderson Silva vs Forrest Griffin
If you want to receive my latest posts, please
subscribe to my full feed RSS
or have them delivered through email. Just enter your email address below and hit the Subscribe button.
Tags: anderson silva, bj penn, forrest griffin, kenny florian, UFC 101
12 Responses to "Where to Watch UFC 101 Live Streaming Online Free"
Leave a Reply