Barack Obama Joker Poster
Category:
News
The hatred for US President Barack Obama keeps on coming.
After becoming a victim of a Google bomb for the search phrase "worst failure ever" two weeks ago, Obama joker posters have appeared all over Los Angeles and Atlanta depicting Obama as Heath Ledger's Joker character from the movie "The Dark Knight". The caption "socialism" appears beneath each poster.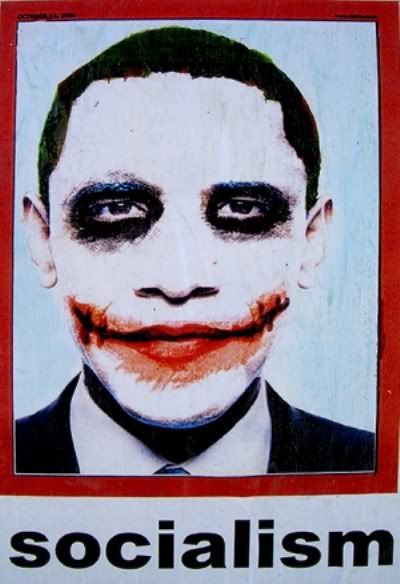 No person or group has claimed responsible for the Obama socialism posters yet although I wonder why they juxtaposed the term socialism with the Joker. His critics can maybe attribute to Obama as being a socialist but not to the Joker. The Joker simply conforms to anarchy; a state of lawlessness and disorder.
They should use a different image next time.
Well…
… why so serious?
If you want to receive my latest posts, please
subscribe to my full feed RSS
or have them delivered through email. Just enter your email address below and hit the Subscribe button.
Tags: barack obama, google, joker, posters
12 Responses to "Barack Obama Joker Poster"
Leave a Reply