A New But Still The Same Old Header For Me
Category:
Personal
Ever since this site was born on February 6, 2009, I have been using an image of an ark carrying various words instead of animals as header. Pumbaa and Timon are also in the driver's seat instead of Noah.
If you ever wondered what the image means, well…
… the ark represents me, my name is Ark of course…
… the various words represent my worry-free thoughts…
… and Timon and Pumbaa are there because from them came the famous African phrase "Hakuna Matata!" from the movie The Lion King, which happens to be my motto by the way. Hakuna Matata! simply means "No Worries!" It's written all over the rainbow if you have not noticed. 😉
So after almost 6 months, I decided to change my header.
But I did not do a total revamp. Just a slight change. You see, I have been having bandwidth limit problems these past 3 months due to this site's high bandwidth consumption. Aside from the heavy traffic, one of the main culprits was my header. It was too large and consumes much bandwidth. So, aside from transferring to a new host, I also made my header smaller.
Using my amateur photoshop skills, it took me 2 hours to do the necessary changes. And presto! I now have a NEW but still the same old header.
For the sake of comparison, here are my old and new headers:
OLD HEADER
NEW HEADER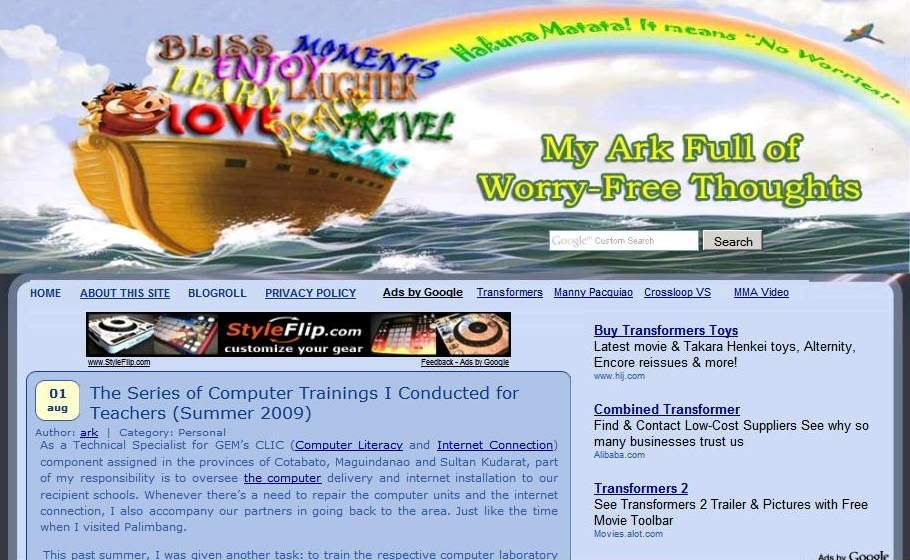 What do you think?
If you want to receive my latest posts, please
subscribe to my full feed RSS
or have them delivered through email. Just enter your email address below and hit the Subscribe button.
Tags: ark, hakuna matata
16 Responses to "A New But Still The Same Old Header For Me"
Leave a Reply