How I Reached the Top of the World Then Fell Down to Earth
Category:
Personal
I have been blogging for almost two years now. My first motivation was really to share to others random thoughts culled from the deep recesses of my existence. But there came a point where I decided to monetize my blogs. Sa hirap ng buhay ngayon, kailangan may extra income. I buy and sell NBA trading cards online but I don't make much as I'm also a collector and what I earned, I buy for my own collections.
So this February, I invested in a new domain and started making SEO posts. However, I still mixed it with posts of my personal stuffs like my wedding chronicles series and my action figures. After 5 months, I made my first Google Adsense $100. Then on August 9, Sunday, I made a total of $212.16 from Google Adsense, Infolinks and Chitika. Wooo! Ang saya-saya! Feeling ko, nasa top of the world ako!
It's the first time I made P10,000… in one day. I'm just a regular 8AM-5PM employee and don't have any other source of income so it was really a joy for me to be able to achieve that. The next day, traffic to this site remained strong albeit weaker at 9,916 visitors. I also managed to earn $64.14 or P3,000+. In 2 days, I already have $276.3 or more than P13,000.
Then on August 11, Tuesday, the inevitable happened. This site was penalized by Google. My top-paying posts appear no more at the 1st or 2nd page of the SERPs (search engine results page). Waaaahhh! Traffic is now going down at an alarming rate. Search from Yahoo!, Google Image and Bing as well as links from  Yahoo! Answers and social bookmarking sites and networks are the ones now keeping this site alive.
I don't really know why this happened. I reviewed this web site thoroughly and my suspicion fell to the pingbacks I got on August 9-10. You see, the posts I made for those days were so hot that several web sites linked to me and sent me a pingback. I accepted them all without reviewing because my thinking was when another site links to you, it is good for you.
I was wrong. This is not the case at all times. I think I flattered myself much. There are several sites who made a living by scraping other's contents and post it at theirs. These are spam sites and are banned by Google since they are considered as "bad neighborhoods". One of Google's guidelines says,
"Don't participate in link schemes designed to increase your site's ranking or PageRank. In particular, avoid links to web spammers or "bad neighborhoods" on the web, as your own ranking may be affected adversely by those links."
When I checked those sites giving me the pingbacks (I have a tutorial here), I confirmed that they are indeed "bad neighborhoods". By accepting those pingbacks, I was in effect creating a backlink to them. Yes, you can't prevent them from linking to you but you can prevent your site from making a bridge to their site. Checking my stats for August 9-10, I have indeed created a bridge to them and sent 233 of my visitors to them. That's a lot I must say. That's enough for Google to think that I am linking to "bad neighborhoods". Enough for Google to give me their much dreaded penalty. Huhuhu…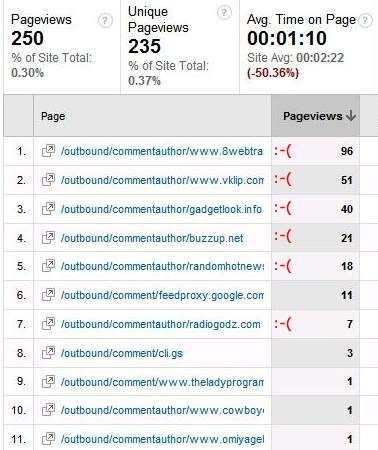 I already removed the offensive pingbacks and now waiting for the penalty to be lifted. I hope I'm not banned because when I Google site:arkhilario.com, my  web site and web pages still appear to be indexed. I hope that this is only temporary. I am now only averaging 400 visitors per day and my earnings from Google Adsense, Chitika and Infolinks are back to cents. I hope somebody with first-hand experience like this can help me what to do.
On August 9 and 10, it fells like I'm on top of the world. On August 11, I fell down to earth…
… hard. Ouch!

If you want to receive my latest posts, please
subscribe to my full feed RSS
or have them delivered through email. Just enter your email address below and hit the Subscribe button.
Tags: adsense, chitika, google, infolinks, yahoo
34 Responses to "How I Reached the Top of the World Then Fell Down to Earth"
Leave a Reply