Digg is a social news website made for people to discover and share content from anywhere on the Internet, by submitting links and stories, and voting and commenting on submitted links and stories. Voting stories up and down is the site's cornerstone function, respectively called digging and burying. Many stories get submitted every day, but only the most Dugg stories appear on the front page. (from Wikipedia)
[ad#link_insidepost]
I often submit some of my posts to Digg.
Why?
1.  It's good to have an inbound link coming from a site with a high page rank because it can boost your ranking in the SERPs. Digg has a PR of 8.
2. If your post got a high number of diggs and made it to the front page of Digg, expect a surge of traffic to your web site.
3. If your site has poor SEO and is ranked low on the SERPs, your link at Digg helps users find your posts because search engines usually rank them high.
According to my Google Analytics, Digg brought me 1,181 visitors since I utilized it 4 months ago ranking #6 among referrers to this site. Not really too high but well, that is still traffic.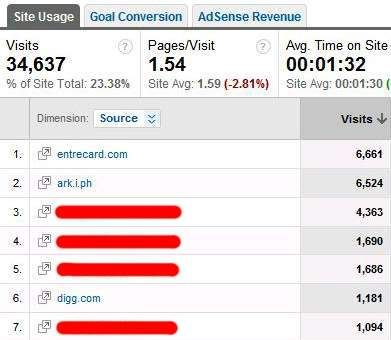 But last week, I was shocked to find out that I can't log in to my Digg account anymore. That's when it hit me, I've been banned!
How come?
Even though I am actively engaging in digging other links and commenting on them, and making friends with other members (I have more than 100), the moderators must have flagged my account as spam because my own submissions amounted to more than 50.
I tried to register a new account and submitted a new post but I was confronted with this message:
This URL has been widely reported by users for one of the following reasons: being used to spam Digg's submission process, posting spam content, or posting off-topic content
Well, the old adage "Everything must come in moderation" still rings true. Unfortunately, I failed to do that.
If you are using Digg, you now know what to do to avoid being banned. Let my story serve as your warning.
Goodbye Digg.
If you want to receive my latest posts, please
subscribe to my full feed RSS
or have them delivered through email. Just enter your email address below and hit the Subscribe button.
13 Responses to "Banned From Digg!"
Leave a Reply