My Second Google Adsense Payout
Category:
Personal
I first tasted how sweet Google juice is last month with $159.58. I was able to come up with that in 5 months of blogging; from February to July.
[ad#link_insidepost]
However in August, I managed to reach the minimum payment threshold of $100 in only 8 days and by the end of the month, I was bound to receive $278.56 as my 2nd payout from Google Adsense. That amount was buoyed by the $172.19 I made in only 1 day.
So when Google sent me the control number  last Thursday (pictured below), I immediately went to the nearest Western Union branch and get my money. In peso, I got P12, 961.32 (exchange rate is $1=P46.6).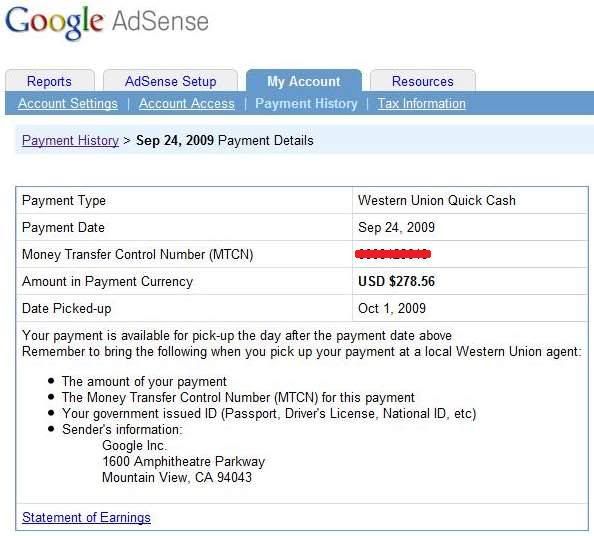 Yippee!
I got only P7,575.02 for my 1st 5 months of my online venture but on the 6th month, I already received almost twice of that amount. Next month, I expect to collect almost P17,000. My target now is to receive at least P20,000/month.
What's best about making money online is that even if you are not in front of the computer, you can earn as long as you have already established your traffic. That's called passive income. And unlike the salary I'm receiving in my 8AM-5PM day job, this one's non-taxable, hehe..
We are expecting a baby boy soon and this extra money is really needed.
If you want to make money online and don't know how, you can read the 3 e-books about SEO (search engine optimization) that really helped me.
If you want to receive my latest posts, please
subscribe to my full feed RSS
or have them delivered through email. Just enter your email address below and hit the Subscribe button.
25 Responses to "My Second Google Adsense Payout"
Leave a Reply