My First Chitika Payout
Category:
Personal
Aside from Google Adsense, another money-earner for this site is Chitika.
[ad#link_insidepost]
Chitika is one of the largest search-targeted advertising networks. Their ads only appear to visitors coming from the search engines especially those from US and UK. To see what a Chitika ad looks like in this site, check this out.
Unlike Adsense which requires a minimum payment threshold of $100 before they pay you, Chitika only requires $10. You can also have an option for payment by check or by PayPal. I chose the latter.
I applied for a Chitika publisher account last May and integrated their ads to this site. Four months later, I have earned $47.40 from them. Yes, already eligible for a payout.
Here's a screenshot of my earnings progression:
You can see that I only made a pitiful $1.03 during my 1st month. From May to July, I only earned $8.53 which was below the $10 minimum payment threshold. But on August, I made $38.40. Thanks BJ Penn and Kenny Florian for this.
So last September 30, my 4-month Chitika earning of $47.40 was sent to my PayPal account.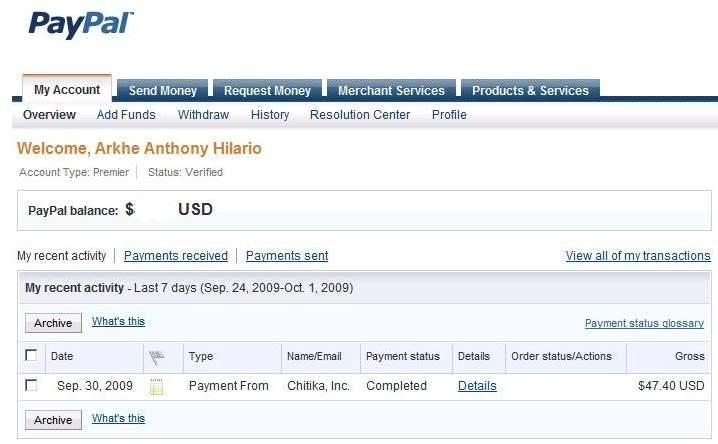 Now, aside from Google Adsense (from which I already received my second payout), I have Chitika as another legitimate source of money online.
You too can apply for a Chitika publisher account by clicking their logo below:
If you want to receive payment through PayPal, please register through their logo below:
Good luck!
If you want to receive my latest posts, please
subscribe to my full feed RSS
or have them delivered through email. Just enter your email address below and hit the Subscribe button.
Tags: adsense, chitika, google, paypal
17 Responses to "My First Chitika Payout"
Leave a Reply