Optimus Prime vs Megatron at NASCAR
Category:
News
Optimus Prime and Megatron will bring their eons-old rivalry to the racetrack to finally determine who will rule the planet Earth.
[ad#link_insidepost]
Well, not really.
Two of the racetrack drivers will just don Transformers: Revenge of the Fallen-themed cars for the NASCAR Sprint Cup Series NASCAR Banking 500 at Lowe's Motor Speedway on October 17, 2009 in Concord, North Carolina, USA.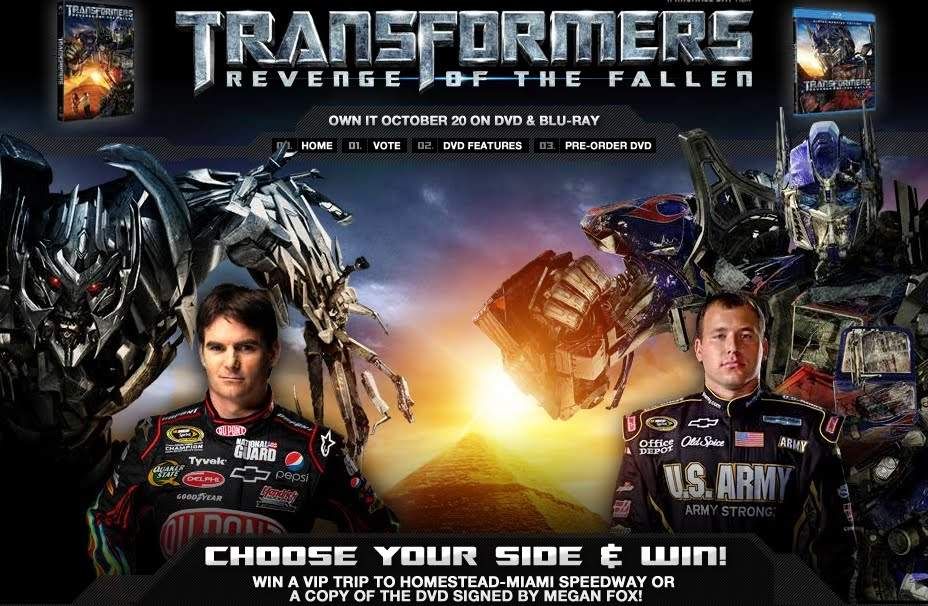 Optimus Prime, leader of the Autobots and Megatron, leader of the Decepticons will be represented by Ryan Newman and Jeff Gordon respectively.
Here are pictures of the two cars in action:
Ryan Newman is the 2008 Daytona 500 winner while Jeff Gordon is the four-time Sprint Cup Series Champion.
Each driver's car, uniform and pit crew will be branded with images of Optimus Prime and Megatron. In addition, Michael Bay, the director of the two Transformers movies, will be the official pace car driver for the 50th running of the NASCAR Banking 500 only from Bank of America at Lowe's Motor Speedway.
This publicity stunt is in anticipation of the release of Transformers: ROTF DVD and Blu-ray debut on October 20, 2009 in immersive, two-disc Special Editions, as well as on a single disc DVD, from DreamWorks Pictures and Paramount Pictures in association with Hasbro; distributed by Paramount Home Entertainment.
Start your engines and roll out!
UPDATE: A human in the person of Jimmie Johnson won the NASCAR Banking 500. Megatron came fourth while Optimus Prime only came eleventh.
If you want to receive my latest posts, please
subscribe to my full feed RSS
or have them delivered through email. Just enter your email address below and hit the Subscribe button.
Tags: autobots, decepticons, jeff gordon, NASCAR, ryan newman, transformers
6 Responses to "Optimus Prime vs Megatron at NASCAR"
Leave a Reply