UFC 104 | Can Shogun Slay The Dragon?
Category:
MMA
The Ultimate Fighting Championship (UFC) organization is set to conquer the world of mixed-martial arts (MMA) again with its 104th rendition with UFC 104: Machida vs Shogun.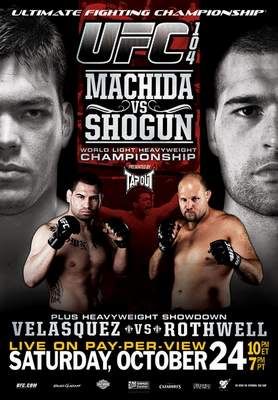 It will be held at the Staples Center in Los Angeles, California, USA this October 24, 2009 (October 25, Sunday here in the Philippines).
Lyoto "The Dragon" Machida will defend his light heavyweight championship belt against Mauricio "Shogun" Rua in the main event of the evening. Machida is currently ranked as the #1 light heavyweight fighter in the world and the #4 pound-for-pound fighter by Sherdog while Rua is the the #1 contender for the Light Heavyweight Championship.
A non-title heavyweight bout between Cain Velasquez and "Big" Ben Rothwell will be the co-main event. Velasquez is an undefeated fighter who sports an MMA career record of 6 wins and no defeat while Rothwell is a former International Fight League (IFL) star who sports a 36-6 win-loss record.
Check out the official and complete UFC 104 fight card.
UPDATE: UFC 104 is already done.
Check out the fight videos below:
Lyoto "The Dragon" Machida vs Maurico "Shogun" Rua
Cain Velasquez vs Ben "Big" Rothwell
If you want to receive my latest posts, please
subscribe to my full feed RSS
or have them delivered through email. Just enter your email address below and hit the Subscribe button.
Tags: ben rothwell, cain velasquez, lyoto machida, shogun rua, UFC 104
One Response to "UFC 104 | Can Shogun Slay The Dragon?"
Leave a Reply