Strikeforce | Grim Times for The Last Emperor
Category:
MMA
Strikeforce: Fedor vs Rogers is a mixed-martial arts (MMA) event being promoted by Strikeforce & M-1 Global organizations.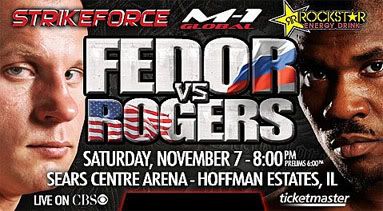 The show is scheduled for November 7, 2009 at the Sears Centre in Hoffman Estates, Illinois, USA.
The main event will feature Fedor "The Last Emperor" Emelianenko against Brett "The Black Grim" Rogers. Fedor is considered as the best heavyweight fighter in the world and possibly the greatest mixed martial artist of all time. He is the current World Alliance of Mixed Martial Arts Heavyweight Champion and the last holder of the Pride Heavyweight Championship.
[ad#link_insidepost]
Rogers on the other hand sports a perfect record of 10-0 with 9 wins coming by knockout. His most recent win was against former UFC heavyweight champion Andrei Arlovski by TKO after 22 seconds in the opening round on June 6, 2009, at Strikeforce: Lawler vs Shield.
Other cards for the event are as follows:
Main Cards (to be shown on TV)
Middleweight Championship bout: Jake Shields vs Jason Miller
Light Heavyweight bout: Gegard Mousasi vs Rameau Thierry Sokoudjou
Heavyweight bout: Fabricio Werdum vs Antonio Silva
Preliminary Cards (not to be shown on TV)
Bantamweight bout: Jeff Curran vs Dustin Neace
Welterweight bout: Mark Miller vs Deray Davis
Welterweight bout: Christian Uflacker vs Jonatas Novaes
Middleweight bout: John Kolosci vs Shamar Bailey
Middleweight bout: Louis Taylor vs Nate Moore
Women's bout (145-lb): Marloes Coenen vs Roxanne Modafferi
Where do I watch Fedor vs Rogers in live streaming online for free?
For the first time in Strikeforce history, CBS will air it LIVE in the United States. It will be first MMA event on network television since the now-defunct EliteXC promotion broadcast its final event, EliteXC: Heat, on CBS on October 4, 2008. The event will start at 8:00PM CT / 2:00AM GMT.
If you can't watch it on TV, you can watch it on free Fedor vs Rogers live online streaming sites or at Justin TV.
Check out the following streams. I suggest that you select low resolution on the player if it lags too much.
[ad#image_afterpost]
The show has already ended. I'm sorry, I'll not post spoilers here.
If you missed the show LIVE, you can watch the Fedor vs Rogers REPLAY or the videos of the following fights:
Fedor Emelianenko vs Brett Rogers
If you want to receive my latest posts, please
subscribe to my full feed RSS
or have them delivered through email. Just enter your email address below and hit the Subscribe button.
Tags: brett rogers, fedor emelianenko, jake shields, jason miller, strikeforce
4 Responses to "Strikeforce | Grim Times for The Last Emperor"
Leave a Reply