Manny Pacquiao Graces Time Magazine Cover
Category:
Boxing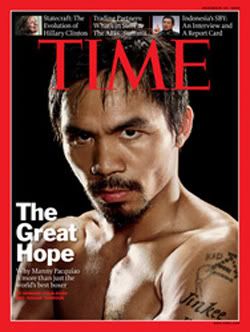 Here's another honor for Manny Pacquiao: he's only the second Filipino to grace the cover of the prestigious Time Magazine since Corazon Aquino (who was named the magazine's "Woman of the Year" in 1986) and only the tenth boxer since Mike Tyson in 1989.
Wow, that was a long time ago!
Manny Pacquiao joins boxing greats Joe Louis, Max Schmeling, Sugar Ray Robinson, Joe Frazier, Cassius Clay aka Muhammad Ali, Jack Dempsey, Primo Carnerra, Gene Tunney and Mike Tyson. He is the only non-heavyweight boxer in the list aside from middleweight Robinson.
Time Magazine has the phrase "The Great Hope" along with Manny's image on its cover; perhaps alluding to Manny's status as the saving grace of the Philippines. Inside, a story titled "The Meaning of Manny" branded him as "the latest savior of boxing"; perhaps due to the threat MMA has posed to the sports known as "The Sweet Science".
I'm adding this magazine along with the Pacquiao bobblehead to my list of must-haves.
Earlier this year, the Filipino ring icon known as the Pacman was 22nd on Time Magazine's list of 100 Most Influential Person in the World. He was also 57th on the Celebrity 100 List, 6th on Forbes' Highest Paid Athlete List and 24th on AskMen.com's Top 49 Most Influential Men List. He was the only Filipino on all lists.
For winning against Oscar dela Hoya and Ricky Hatton and becoming only the 2nd six-division world champion (after dela Hoya), he was awarded 2008's Fighter of the Year by the Boxing Writers Association of America and 2009's Best Fighter Awardee by the ESPYs.
Manny Pacquiao will face Miguel Cotto in a bout dubbed "Firepower" on November 14, 2009 (November 15 here in the Philippines) at the MGM Grand Hotel in Las Vegas, Nevada, USA. If he wins, he will get his 7th world title in as many weight classes; a feat no other boxer in history has done.
Man, the Pacquiao legend will surely grow even more with that daunting task.
If you want to receive my latest posts, please
subscribe to my full feed RSS
or have them delivered through email. Just enter your email address below and hit the Subscribe button.
Tags: filipino, manny pacquiao, pacman, time
One Response to "Manny Pacquiao Graces Time Magazine Cover"
Leave a Reply