WEC 45 | Cerrone vs Ratcliff Lightweight Showdown
Category:
MMA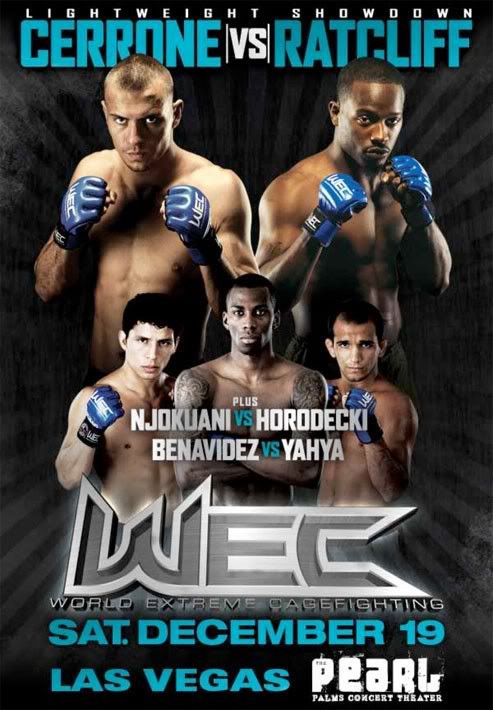 The World Extreme Cagefighting organization returns to The Pearl at the Palms in Las Vegas, Nevada, USA for another mixed-martial arts extravaganza.
After the success of WEC 44 last November 18 where  Jose Aldo overwhelmed Mike Brown with his speed, here comes WEC 45 featuring Donald "Cowboy" Cerrone and Ed "9mm" Ratcliff in a non-title lightweight match.
Cerrone started out as a Muay Thai kickboxer where he was undefeated with 28 wins and 1 draw before becoming a mixed-martial artist where he has amassed a record of 10 wins (9 by submission) and 2 losses. Ratcliff meanwhile is a stand-up fighter who sports an MMA record of 7 wins (5 by KO, 1 by submission) and only 1 defeat.
The outcome of this matchup will decide who will get the crack for the WEC lightweight championship title.
Here are the other matchups:
Main Card
* Lightweight bout: Donald Cerrone vs. Ed Ratcliff
* Lightweight bout: Anthony Njokuani vs. Chris Horodecki
* Bantamweight bout: Joseph Benavidez vs. Rani Yahya
* Bantamweight bout: Takeya Mizugaki vs. Scott Jorgensen
Undercard
* Lightweight bout: Bart Palaszewski vs. Anthony Pettis
* Lightweight bout: Muhsin Corbbrey vs. Zach Micklewright
* Bantamweight bout: John Hosman vs. Chad George
* Bantamweight bout: Brandon Visher vs. Courtney Buck
* Bantamweight bout: Brad Pickett vs. Kyle Dietz
* Featherweight bout: Jameel Massouh vs. Erik Koch
Where do I watch WEC 45 in live streaming online free?
[ad#link_insidepost]
You can watch it LIVE for free on the Versus Network on Saturday, December 19, 2009 at 9:00 PM ET / 8:00 PM CT.
If you can't watch it on TV, several sites will actually offer it for free like Justin TV, Freedocast, LiveStream and UStream. You just have to look for them patiently. However, most of them are immediately taken down just minutes after the WEC 45 LIVE stream.
If I can find a working stream, I'll post it here.
You can also try to watch for it using the Sopcast player.
UPDATE: WEC 45 is done! Here's the video of the main event: Donald Cerrone vs Ed Ratcliff.
If you want to receive my latest posts, please
subscribe to my full feed RSS
or have them delivered through email. Just enter your email address below and hit the Subscribe button.
Tags: donald cerrone, ed ratcliff, WEC 45
One Response to "WEC 45 | Cerrone vs Ratcliff Lightweight Showdown"
Leave a Reply