UFC 108 | Daley Wins Knockout of the Night
Category:
MMA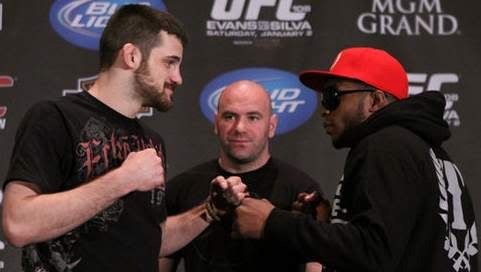 Dustin "McLovin" Hazelett will battle Paul "Semtex" Daley in the undercard of UFC 108: Evans vs Silva on January 2, 2010 at the MGM Grand Garden Arena in Las Vegas, Nevada, USA.
[ad#link_insidepost]
This bout is a classic grappler vs striker matchup.
Hazelett (12 wins-4 lossess) is a Brazilian Jiu Jitsu practitioner who has submitted 8 of his 12 opponents.
Daley (22 wins-8 losses-2 draws) is a Muay Thai kickboxer who has knocked-out 17 of his 22 opponents.
PREDICTION:
Daley is one of the best welterweights in the world. He is even ranked 8th by Sherdog in its list. He is also the current Cage Rage welterweight champion. He enters the Octagon trying to prove his worth.
Daley has too much power in his hands. I pick him to win via 1st Round KO.

Watch UFC 108 free online LIVE stream on Saturday, January 2, 2010 – 7PM PT / 10PM ET / 3AM BST.
=======================================================
UPDATE: Here's the Dustin Hazelett vs Paul Daley video:
[ad#image_afterpost]
You can also check out the videos of the following matchups:
Rashad Evans vs. Thiago Silva
Joe Lauzon vs. Sam Stout
Jim Miller vs. Duane Ludwig
Junior dos Santos vs. Gilbert Yvel
If you want to receive my latest posts, please
subscribe to my full feed RSS
or have them delivered through email. Just enter your email address below and hit the Subscribe button.
Tags: dustin hazelett, paul daley, UFC 108
7 Responses to "UFC 108 | Daley Wins Knockout of the Night"
Leave a Reply