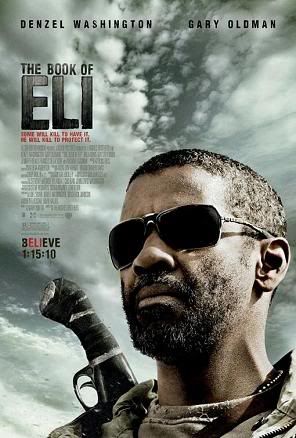 Movies that are concerned with the end or impending end of civilization either through nuclear war, plague, or some other general disaster are often sure-fire box-office hits.
Looking to duplicate the success of movies like Terminator, 2012, Independence Day, War of the Worlds and  I Am Legend, The Book of Eli opens in theaters today, January 15, 2010.
The Book of Eli is a post-apocalyptic film directed by the Hughes brothers, written by Gary Whitta, and starring Denzel Washington, Gary Oldman and Mila Kunis.
With an $80 million budget, The Book of Eli promises to be one of Denzel's top-grossing films of all time.
SYNOPSIS (from Wikipedia):
In post-apocalyptic 2043, Eli (Denzel Washington) guards a Bible, that, to his knowledge, is the last copy in the world. Eli believes this book can provide knowledge that could redeem society and help people understand the source of their pain. The despot (Gary Oldman) of a small makeshift town plans to take possession of the book and use it to further his cause.
Watch The Book of Eli movie video below. The latest Adobe Flash player must be installed on your browser for this to work. If you have a slow internet connection, I suggest that you switch to low quality. To watch The Book of Eli movie video uninterrupted, I suggest that you pause it and only play it when the status bar reaches the end.
Enjoy the movie before it gets taken down due to copyright issues. 😉
If you want to receive my latest posts, please
subscribe to my full feed RSS
or have them delivered through email. Just enter your email address below and hit the Subscribe button.
Tags: movie, the book of eli
11 Responses to "The Book of Eli, Deliver Us"
Leave a Reply