Collision Course | Viloria Loses Title to Tamara via 12th Round TKO
Category:
Boxing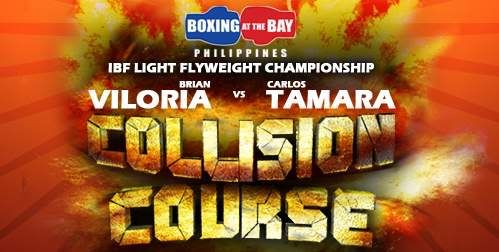 Brian "The Hawaiian Punch" Viloria will defend his IBF Junior Flyweight belt against challenger Carlos "El Olímpico" Tamara this Friday, January 22, 2010 (Saturday, January 23 in Manila).
[ad#link_insidepost]
The 12-round bout dubbed "Collision Course" will be held at the Cuneta Astrodome, Pasay City, Metro Manila, Philippines.
Viloria is a Filipino-American who sports a record of 26 wins (15 by knockout) and 2 losses. He is on a 7-win streak after consecutive losses to Omar Nino Romero in 2006 and Edgar Sosa in 2007.
Tamara is a Colombian boxer with a win-loss record of 20-4. Of his 20 wins, 14 are by KO.
This will a battle between two former Olympians as Viloria fought for the US in the 2000 Olympics and Tamara was a member of the 2004 Colombia Olympic team.
Here's a video of Brian Viloria's best fight to date, an 11th round KO against former IBF Junior Flyweight champion Ulises "Archie" Solis:
Here in the Philippines, Solar Sports will air the Brian Viloria vs Carlos Tamara bout LIVE on Saturday, January 23.
=======================================================
UPDATE: The referee stopped the fight in Round 12 awarding a TKO win for Tamara. Viloria was sent to the hospital immediately after the bout to check on his condition.
Here's the Brian Viloria vs Carlos Tamara video of the fight:
[ad#image_afterpost]
Check out Donnie Nietes vs Jesus Silvestre as well.
If you want to receive my latest posts, please
subscribe to my full feed RSS
or have them delivered through email. Just enter your email address below and hit the Subscribe button.
Tags: brian viloria, carlos tamara, collision course, olympics
2 Responses to "Collision Course | Viloria Loses Title to Tamara via 12th Round TKO"
Leave a Reply