Collision Course | "The Snake" Nietes Defends Title Against Silvestre
Category:
Boxing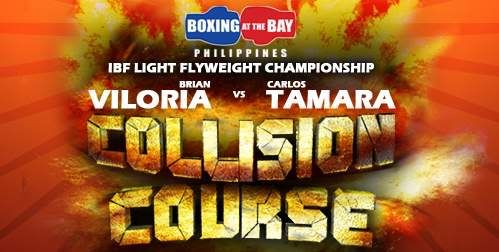 In the undercard for "Collision Course" between Viloria and Tamara is a boxing match between Donnie "Ahas" Nietes and Jesus Silvestre.
[ad#link_insidepost]
It will be held at the Cuneta Astrodome, Pasay City, Metro Manila, Philippines this Friday, January 22, 2010 (Saturday, January 23 in Manila).
Nietes is the current WBO Minimumweight World Champion who will be defending his title for the fourth consecutive time. During his streak, he defeated Eddy Castro, Erik Ramirez and Manuel Vargas. His career record stands at 25-1-1 with 14 KOs.
Looking to break that streak is Mexican Silvestre with a win-loss record of 15-1, 12 by way of knockout.
Here's the Donnie Nietes vs Jesus Silvestre preview video:
Here in the Philippines, Solar Sports will air "Collision Course"  LIVE on Saturday, January 23.
UPDATE: Nietes succesfully defended his title by stopping Sivestre in the 10th Round!

Here's the Donnie Nietes vs Jesus Silvestre video of the fight:
[ad#image_afterpost]
Check out Brian Viloria vs Carlos Tamara as well.
If you want to receive my latest posts, please
subscribe to my full feed RSS
or have them delivered through email. Just enter your email address below and hit the Subscribe button.
Tags: collision course, donnie nietes, jesus silvestre
One Response to "Collision Course | "The Snake" Nietes Defends Title Against Silvestre"
Leave a Reply