UFC 109 | Demian Maia Defeats Dan Miller By Decision
Category:
MMA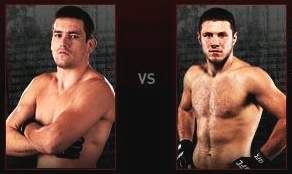 It's a battle between two submission specialists in the undercard for UFC 109: Relentless headlined by two UFC Hall of Famers.
This February 6, 2010 at the Mandalay Bay Events Center in Las Vegas, Nevada, USA, Demian Maia and Dan Miller will take it to the mat inside the Octagon.
Demian Maia (11 wins – 2 losses) became the first UFC fighter to earn three consecutive Submission of the Night honors. His four consecutive dominating submissions in the UFC have quickly brought his skills to the forefront as possibly being the best pure grappler in the UFC. In fact, he has fou Submission of the Night award in five UFC fights. However in his last fight against Nate Marquardt at UFC 102, he was dealt his first loss when he was KOd just 21 seconds into the fight.
Daniel Miller (11 wins – 2 losses) is a former Cage Fury and IFL middleweight champion before he joined the UFC. His last fight was against Chael Sonnen at UFC 98 where he lost via Unanimous Decision.
Watch UFC 109 free online LIVE stream on Saturday, February 6, 2010 – 7PM PT / 10PM ET / 3AM BST.
=======================================================
Watch the Demian Maia vs Dan Miller video below:
[ad#image_afterpost]
You can also check out the videos of the following matchups:
Randy Couture vs. Mark Coleman
Nate Marquardt vs. Chael Sonnen
Mike Swick vs. Paulo Thiago
Matt Serra vs. Frank Trigg
If you want to receive my latest posts, please
subscribe to my full feed RSS
or have them delivered through email. Just enter your email address below and hit the Subscribe button.
Tags: daniel miller, demian maia, UFC 109
One Response to "UFC 109 | Demian Maia Defeats Dan Miller By Decision"
Leave a Reply