UFC 109 | Twinkle Toes Trigg Terrorized by Matt Serra
Category:
MMA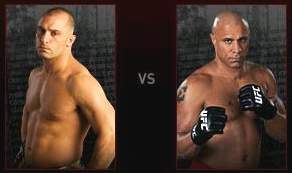 Matt "The Terror" Serra is a former UFC welterweight champion. But since winning it, consecutive losses against Georges St. Pierre and Matt Hughes pulled him down back to earth.
[ad#link_insidepost]
This February 6, 2010 at the Mandalay Bay Events Center in Las Vegas, Nevada, USA, he is looking to make a comeback. Standing in his way is Frank "Twinkle Toes" Trigg.
Matt Serra  (9 wins – 6 losses) won the UFC Welterweight Championship against Georges St. Pierre at UFC 69. In a rematch at UFC 83, he lost his crown. His next and latest fight was against Matt Hughes at UFC 98 where he lost via Unanimous Decision.
Frank Trigg (19 wins – 7 losses) has tried twice for the UFC Welterweight Championship but failed. Incidentally, both losses were against Matt Hughes. After hoping from one MMA organization to another like Pride Fighting Championships, Rumble on the Rock, Icon Sport, World Fighting Alliance, and has even made a few professional wrestling appearances in Total Nonstop Action Wrestling, he returned to the Octagon at UFC 103 but lost to Josh Koscheck.
Watch UFC 109 free online LIVE stream on Saturday, February 6, 2010 – 7PM PT / 10PM ET / 3AM BST.
=======================================================
Watch the Matt Serra vs Frank Trigg video below:
[ad#image_afterpost]
You can also check out the videos of the following matchups:
Randy Couture vs. Mark Coleman
Nate Marquardt vs. Chael Sonnen
Mike Swick vs. Paulo Thiago
Demian Maia vs. Dan Miller
If you want to receive my latest posts, please
subscribe to my full feed RSS
or have them delivered through email. Just enter your email address below and hit the Subscribe button.
Tags: frank trigg, matt serra, UFC 109
3 Responses to "UFC 109 | Twinkle Toes Trigg Terrorized by Matt Serra"
Leave a Reply