UFC 109 | Sonnen Gets Title Shot Over Marquardt
Category:
MMA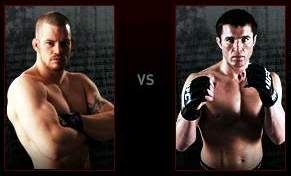 In the co-main event for UFC 109: Relentless headlined by two Legends of the Octagon, stakes will be high for two middleweight fighters.
Nate "The Great" Marquardt and Chael Sonnen are looking to fight over a title shot at the UFC middleweight crown.
Nate Marquardt (29 wins – 8 losses – 2 draws) is a three-time Middleweight King of Pancrase Champion. His last fight was against Demian Maia at UFC 102 where he won via knockout in only 21 seconds.
Chael Sonnen (24 wins – 10 losses – 1 draw) is a two-time National Champion, NCAA All-American, and a US Olympic team alternate. Sonnen is currently ranked the #6 middleweight in the world by Sherdog. His last fight was against Yushin Okami at UFC 104 where he won via Unanimous Decision.
The winner of the Nate Marquardt vs Chael Sonnen bout gets title shot against the winner of the Anderson Silva vs Vitor Belfort  bout  set at UFC 112 in Abu Dhabi, UAE.
Watch UFC 109 free online LIVE stream on Saturday, February 6, 2010 – 7PM PT / 10PM ET / 3AM BST.
=======================================================
UPDATE February 6: Sonnen gets title shot over Marquardt!
UPDATE August 5: Sonnen gets to challenge Anderson Silva for the UFC middleweight crown.
Watch the Nate Marquardt vs Chael Sonnen video below:
You can also check out the videos of the following matchups:
Randy Couture vs. Mark Coleman
Mike Swick vs. Paulo Thiago
Demian Maia vs. Dan Miller
Matt Serra vs. Frank Trigg
If you want to receive my latest posts, please
subscribe to my full feed RSS
or have them delivered through email. Just enter your email address below and hit the Subscribe button.
Tags: chael sonnen, nate marquardt, UFC 109
4 Responses to "UFC 109 | Sonnen Gets Title Shot Over Marquardt"
Leave a Reply