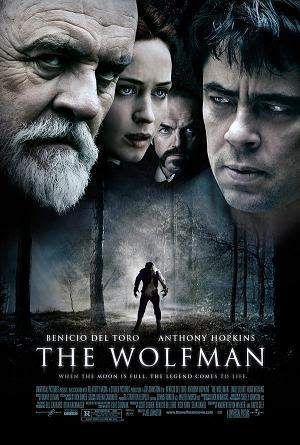 In 1941, a movie that highly influenced Hollywood's depictions of the legend of the werewolf was shown to cinemas across America. That film is The Wolf Man which happens to be the second Universal Pictures werewolf movie, preceded six years earlier by the less commercially successful Werewolf of London.
[ad#link_insidepost]
It starred Lon Chaney, Jr. in the lead role as Larry Talbot / The Wolf Man.
Now fifty-nine years later, the movie is being remade and stars Benicio del Toro (as The Wolfman), Anthony Hopkins, Emily Blunt, Hugo Weaving and Geraldine Chaplin. It is directed by Joe Johnston.
The Wolfman (2010) is set to be released on February 12, 2010.
SYNOPSIS (from Wikipedia):
Set in the 1880s, the film keeps the plotline of the original, with Lawrence Talbot (Benicio del Toro) reuniting with his father (Anthony Hopkins) following the disappearance of his brother. Lawrence Talbot's childhood ended the night his mother died. After he left the sleepy Victorian hamlet of Blackmoor, he spent decades recovering and trying to forget. But when his brother's fiancée, Gwen Conliffe (Emily Blunt), tracks him down to help find her missing love, Talbot returns home to join the search. He learns that something has been killing the villagers, and that a Scotland Yard inspector named Aberline (Hugo Weaving) has come to investigate. As he pieces together the puzzle, he hears of an ancient curse that turns the afflicted into werewolves when the moon is full. Talbot must destroy the vicious creature in the woods surrounding Blackmoor to end the killings and protect the woman he has grown to love
Watch The Wolfman movie video below. The latest Adobe Flash player must be installed on your browser for this to work. If you have a slow internet connection, I suggest that you switch to low quality. To watch The Wolfman movie video uninterrupted, I suggest that you pause it and only play it when the status bar reaches the end.
[ad#textimage_beforeposts]
Enjoy the movie before it gets taken down due to copyright issues. 😉
If you want to receive my latest posts, please
subscribe to my full feed RSS
or have them delivered through email. Just enter your email address below and hit the Subscribe button.
Tags: movie, the wolfman, trailers, werewolf
5 Responses to "The Wolfman, The Legend is Alive"
Leave a Reply