XXI Olympic Winter Games Mascots
Category:
News
The 21st rendition of the Winter Olympics officially named as the XXI Olympic Winter Games has its opening ceremonies held today at Vancouver, Canada. The 2010 Winter Olympics will be the third Olympics hosted by Canada.
The sporting event held once every four years would be incomplete without its adorable mascots. The life-sized mascots in costume entertain the crowd while the plush toy versions are usually given to winners at the medal podium.
The Vancouver 2010 Winter Olympics mascots are inspired by traditional First Nations creatures. Here they are: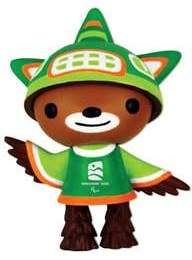 Sumi
An animal guardian spirit who who lives in the mountains of British Columbia. He wears the hat of the orca whale, flies with the wings of the mighty Thunderbird and runs on the strong furry legs of the black bear.
Sumi's name comes from the Salish word "Sumesh" which means "guardian spirit." Sumi takes his role very seriously. He works hard to protect the land, water and creatures of his homeland. Sumi is a great fan of the Paralympic Games. He's determined to learn all the sports, so he can play and race with his animal friends all winter long.
Quatchi
A young sasquatch who comes from the mysterious forests of Canada. Quatchi is shy, but loves to explore new places and meet new friends.
Although Quatchi loves all winter sports, he's especially fond of hockey. He dreams of becoming a world-famous goalie. Because of his large size, he can be a little clumsy. But no one can question his passion. He knows that if he works hard and always does his best, he might one day achieve his dream. Quatchi is always encouraging his friends to join him on journeys across Canada. He is also often recruiting others to play hockey – or at least to take shots at him!
Miga
Miga is a young sea bear who lives in the ocean with her family pod, beyond Vancouver Island, near Tofino, British Columbia. Sea bears are part killer whale and part bear. (Miga is part Kermode bear, a rare white bear that only lives in British Columbia.)
All summer long, Miga rides waves with local surfers. But during the winter months, she often sneaks onto the shores of Vancouver to seek adventure. When Miga discovered that humans were 'surfing' on snow, up in the mountains, she knew she had to join the fun. Snowboarding soon became her favourite winter sport. Her dream is to land a corked 720 in the half-pipe one day…It will take lots of practice, and a few falls along the way, but she's sure she can do it.
Mukmuk
A Vancouver Island marmot described as "small and friendly", Mukmuk is not an official mascot but acts as their sidekick. As of December 2008 he has joined the other mascots as a plush toy, but not yet a life-size mascot costume.
Reference: Meet the Vancouver 2010 Mascots!
Watch Vancouver 2010 Winter Olympics live online streaming free from February 12 – 28, 2010.
If you want to receive my latest posts, please
subscribe to my full feed RSS
or have them delivered through email. Just enter your email address below and hit the Subscribe button.
Tags: mascot, winter olympics
3 Responses to "XXI Olympic Winter Games Mascots"
Leave a Reply