Dwyane Wade is the 2010 NBA All-Star Game MVP!
Category:
Basketball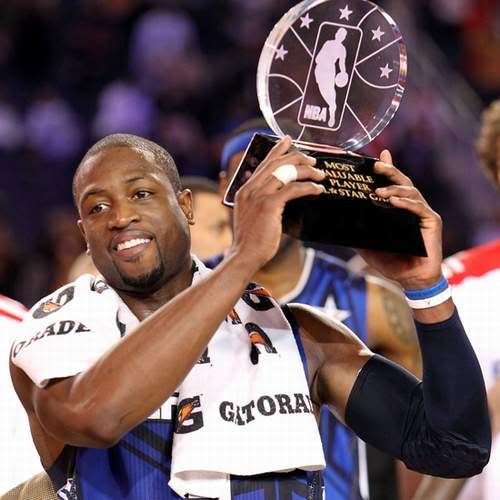 The Lone Star State needs to be renamed "The Countless Stars State" as the biggest stars in today's roster of NBA players came down to Texas to play in the 2010 NBA All-Star Game.
And among those stars, Dwyade "Flash" Wade shone the brightest as he bagged his first-ever All-Star game MVP award leading the East All-Stars to a 141-139 victory over their Western counterparts.
With a world-record crowd of 108,713 filling up the Cowboys Stadium in Arlington, Texas, Wade dazzled the crowd with his scoring and passing with a game-high 28 points and 11 assists (second to Steve Nash). He collared 6 rebounds too and swiped a game-high 5 steals.
Wade bagged his first NBA Finals MVP award in Dallas too when he led the Miami Heat to their first and only championship in 2006.
"I've had a little luck in Dallas," Wade says.
If you want to receive my latest posts, please
subscribe to my full feed RSS
or have them delivered through email. Just enter your email address below and hit the Subscribe button.
Tags: 2010 NBA all-star, 2010 NBA season, dwyane wade
One Response to "Dwyane Wade is the 2010 NBA All-Star Game MVP!"
Leave a Reply