UFC 110 | Minotauro Bows Down to Velasquez
Category:
MMA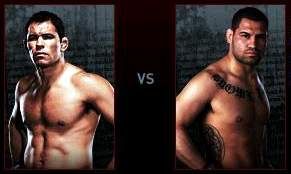 Antonio Rodrigo "Minotauro" Nogueira is a former interim UFC Heavyweight Champion looking to regain that when he lost to Frank Mir at UFC 92.
Cain Velasquez  is a young but promising fighter looking to stamp his name in the UFC heavyweight class.
This February 20, 2010 at the Acer Arena in Sydney, Australia, the two giants will meet to establish who is most worthy of the chance for the UFC Heavyweight championship belt.
Antonio Rodrigo Nogueira (32 wins-5 losses-1 draw) is the first and only heavyweight to have held Championship titles in both the Pride Fighting Championship promotion and the Ultimate Fighting Championship promotion. He is widely recognized to possess the best Brazilian Jiu-Jitsu in the MMA heavyweight class and being one of the best mixed martial artists of all time. He is coming off a win against Randy Couture at UFC 102.
Velasquez is undefeated in 7 fights with 6 coming via KO. He defeated Ben Rothwell at UFC 104.
Watch UFC 110 free online LIVE streaming on Saturday, February 20, 2010 – 7PM PT / 10PM ET / 3AM BST.
=======================================================
UPDATE: Watch the Nogueira vs Cain Velasquez video below.
Please refresh this page if video won't load the first time.
You can also watch the following UFC 110 videos once available.
Wanderlei Silva vs. Michael Bisping
Joe Stevenson vs. George Sotiropoulos
Keith Jardine vs. Ryan Bader
Mirko Filipović vs. Anthony Perosh
If you want to receive my latest posts, please
subscribe to my full feed RSS
or have them delivered through email. Just enter your email address below and hit the Subscribe button.
Tags: antonio nogueira, cain velasquez, UFC 110
Leave a Reply