UFC 110 | The Count Gets Axed by Silva
Category:
MMA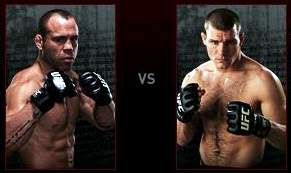 In the co-main event for UFC 110: Nogueira vs Velasquez, Wanderlei "The Axe Murderer" Silva will be making his middleweight debut against Michael "The Count" Bisping.
It will be held at the Acer Arena in Sydney, Australia.
Silva (32 wins-10 losses-1 draw) is a former Pride middleweight (205 lb) champion, and the Pride 2003 Middleweight Grand Prix champion. He is very much in need of a career revival as he has lost 6 of his last 9 fights including 1-3 inside the Octagon. His last fight against Rich Franklin at UFC 99 resulted in a loss.
Bisping (18 wins-2 losses) is the former Cage Warriors Fighting Championship light heavyweight champion and former Cage Rage light heavyweight champion. His last fight was against Dennis Kang at UFC 105.
Watch UFC 110 free online LIVE streaming on Saturday, February 20, 2010 – 7PM PT / 10PM ET / 3AM BST.
=======================================================
UPDATE: Watch the Wanderlei Silva vs Michael Bisping video below:
You can also watch the following UFC 110 videos once available.
Antonio Rodrigo Nogueira vs. Cain Velasquez
Joe Stevenson vs. George Sotiropoulos
Keith Jardine vs. Ryan Bader
Mirko Filipović vs. Anthony Perosh
If you want to receive my latest posts, please
subscribe to my full feed RSS
or have them delivered through email. Just enter your email address below and hit the Subscribe button.
Tags: michael bisping, UFC 110, wanderlei silva
8 Responses to "UFC 110 | The Count Gets Axed by Silva"
Leave a Reply