WEC 47 | Cruz Captures Bantamweight Title From Bowles
Category:
MMA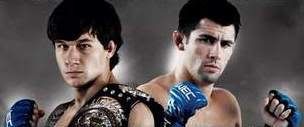 Brian Bowles is set to make his first title defense of his WEC Bantamweight crown in the main event for WEC 47: Bowles vs. Cruz.
He will do it against Dominick Cruz at the Nationwide Arena in Columbus, Ohio, USA on March 6, 2010.
Bowles is an undefeated mixed-martial artist who came into prominence when he strung up 4 straight wins upon coming into the World Extreme Cagefighting scene. When he was given chance to challenge then WEC Bantamweight Champion Miguel Torres at the main event of WEC 42, he did not disappoint by winning via TKO in the 1st Round.
Cruz (14 wins, 1 loss) is also on a current 4 straight wins at the WEC. His first attempt for  a WEC belt ended up in failure when he was defeated by Urijah Faber for the Featherweight Championship at WEC 26.
Watch WEC 47 free online LIVE stream on Sunday, March 6, 2010 – 9:00 PM ET / 8:00 PM CT.
=======================================================
UPDATE: Here's the Brian Bowles vs Dominick Cruz video:
[ad#image_afterpost]
Also check out the following WEC 47 videos:
Miguel Torres vs. Joseph Benavidez
Jens Pulver vs. Javier Vazquez
If you want to receive my latest posts, please
subscribe to my full feed RSS
or have them delivered through email. Just enter your email address below and hit the Subscribe button.
Tags: brian bowles, dominick cruz, WEC 47
One Response to "WEC 47 | Cruz Captures Bantamweight Title From Bowles"
Leave a Reply