UFC Fight Night 21 | Roy Nelson KOs Struve in Just 39 Seconds
Category:
MMA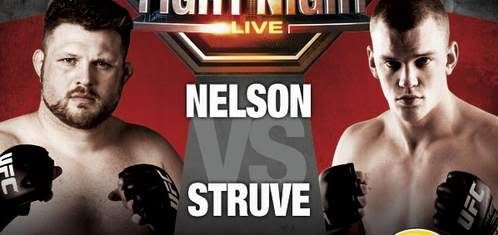 The Ultimate Fighter Season 10 winner Roy "The Big Country" Nelson is such a character that after knocking-out Brendan "The Hybrid" Schaub in the TUF 10 Finale, Nelson climbed the top of the Octagon ring and proudly showed the world his belly. That was after he entered the arena to the tune of Weird Al Yankovic's "Fat"; a parody of the Michael Jackson song "Bad".
In the co-main event for UFC Fight Night 21: Florian vs. Gomi, Nelson will make his second UFC outing against Stefan "The Skyscraper" Struve
It will be held at Bojangles Coliseum in Charlotte, North Carolina, USA on March 31, 2010 and will be shown on Spike TV as the preliminary for The Ultimate Fighter Season 11 premiere.
Roy Nelson (14 wins, 4 losses) is a former International Fight League heavyweight champion. Nelson might not look like your typical mixed-martial artist due to his fat belly but proven that looks can be deceiving by winning last season's The Ultimate Fighter and earned a six-figure contract to fight in the UFC organization. He was even awarded a $25,000 bonus for delivering the Knockout of the Night.
He has a black belt on Brazilian Jiu Jitsu under Renzo Gracie and has good boxing skills. But its in the ground where he makes his living. He uses his belly to pin opponents to the ground in a crucifix position and pound them. This was effectively utilized against Kimbo Slice and James McSweeney.
Stefan Struve (19 wins, 3 losses) is a submission expert with 14 of his wins via submission. His last bout was against Paul Buentello at UFC 107 where he won via Majority Decision.
Watch UFC Fight Night 21 LIVE stream on Wednesday, March 31, 2010 at 8:00 PM ET / 7:00 PM CT.
=======================================================
UPDATE: Roy Nelson KOs Stefan Struve just 39 seconds into the first round.
Watch the Roy Nelson vs Stefan Struve video below:
[ad#image_afterpost]
You can also watch the Kenny Florian vs Takanori Gomi video.
If you want to receive my latest posts, please
subscribe to my full feed RSS
or have them delivered through email. Just enter your email address below and hit the Subscribe button.
Tags: roy nelson, stefan struve, UFC fight night 21
Leave a Reply