UFC 112 | The Spider Retains UFC Middleweight Title
Category:
MMA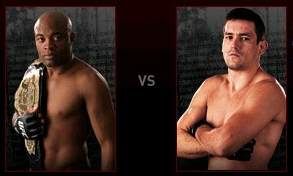 Anderson "Spider" Silva hasn't lost since January 2006. He has also already defended his UFC middleweight championship for six consecutive times.
He has dominated his opponents so much that he is riding a streak of 10 consecutive wins inside the UFC. That's actually a UFC record if you're not impressed.
In the process, he became the best middleweight in the planet and the top pound for pound MMA fighter.
Silva seems invincible that when he defends his title at the main event of UFC 112, the event is billed as "Invincible".
Looking to pull a massive upset is Demian Maia who is in for the toughest fight of his career. He is actually just a replacement after Vitor Belfort pulled-out due to a shoulder injury suffered in training.
This will be a battle between two Brazilians.
Silva (25 wins, 4 losses) is one of the best strikers in the planet as proven by his 15 KOs out of his 25 wins. He has already defended his UFC middleweight crown six times and he might be already bored that he jumps to the light-heavyweight division from time to time and was actually successful against James Irvin at UFC Fight Night 14 and Forrest Griffin at UFC 101.
Maia (12 wins, 1 loss) is a Brazilian Jiu-Jitsu practitioner who is known for his deadly submissions. He has been awarded a UFC record four Submission of the Night honors. He pulled off a dominating performance against Dan Miller at UFC 109 winning by Unanimous Decision.
Watch UFC 112 LIVE stream FREE on Saturday, April 10, 2010 – 1 PM ET/10 PM PT with REPLAY at 10 PM ET/7 PM PT / 3AM BST at the Concert Arena, Ferrari World in Abu Dhabi, UAE.
=======================================================
UPDATE April 10, 2010: Silva defeated Maia via majority decision to retain the UFC Middleweight Championship
Silva toyed with Maia in the 1st two rounds and completely dominated him. Then in the third up to the last round, he juts shut down.
Watch the Anderson Silva vs Demian Maia video below to check it out:
Please refresh this page if video fails to load.
Silva vs Maia Video Part 1
Silva vs Maia Video Part 2
You can also watch the following UFC 112 videos once available:
BJ Penn vs Frankie Edgar video
Matt Hughes vs Renzo Gracie video
Terry Etim vs Rafael dos Anjos video
Kendall Grove vs Mark Munoz video
If you want to receive my latest posts, please
subscribe to my full feed RSS
or have them delivered through email. Just enter your email address below and hit the Subscribe button.
Tags: anderson silva, demian maia, UFC 112
6 Responses to "UFC 112 | The Spider Retains UFC Middleweight Title"
Leave a Reply