UFC 112: Invincible, First UFC Outdoor Event
Category:
MMA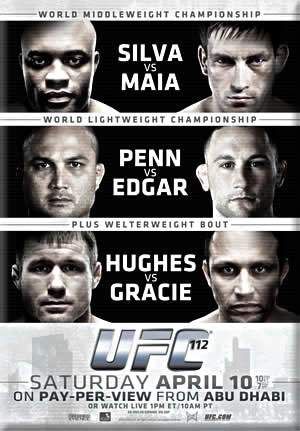 The Ultimate Fighting Championship is coming to the Middle East for the first time!
In Abu Dhabi, United Arab Emirates to be exact at the beautiful Yas Island where the new Concert Arena  at Ferrari World was built just for UFC 112.
UFC 112: Invincible will also be the first UFC event to be held outdoors. It will be held on Saturday, April 10, 2010 only in pay-per-view at 1 PM ET/10 PM PT with REPLAY at 10 PM ET/7 PM PT.
There will be two main events as two titles are on the line.
UFC Middleweight champion Anderson "The Spider" Silva defends his belt against Demian Maia while Frankie "The Answer" Edgar tries to wrestle the UFC Lightweight championship from BJ "The Prodigy" Penn.
Also, former UFC Welterweight champion Matt Hughes and Brazilian Jiu-Jitsu expert Renzo Gracie meets for the first time in an action-packed under card.
Here's the official fight card:
Main Cards (watch on PPV TV)
* Middleweight Championship bout: Anderson Silva (c) vs. Demian Maia
* Lightweight Championship bout: B.J. Penn (c) vs. Frankie Edgar
* Welterweight bout: Matt Hughes vs. Renzo Gracie
* Lightweight bout: Terry Etim vs. Rafael dos Anjos
* Middleweight bout: Kendall Grove vs. Mark Munoz
Preliminary Cards (not to be shown on TV)
* Light Heavyweight bout: Alexander Gustafsson vs. Phil Davis
* Lightweight bout: Paul Taylor vs. John Gunderson – this fight has reportedly been removed from the undercard due to health complications resulting from Paul Taylor's weight cut
* Welterweight bout: Nick Osipczak vs. Rick Story
* Welterweight bout: DaMarques Johnson vs. Brad Blackburn
* Lightweight bout: Paul Kelly vs. Matt Veach
* Heavyweight bout: Jon Madsen vs. Mostapha Al-turk
Check out the UFC 112 results which will updated as each matchup progress.
If you have the money, you can watch UFC 112 LIVE via pay-per-view on Saturday, April 10, 2010 – 1 PM ET/10 PM PT with REPLAY at 10 PM ET/7 PM PT / 3AM BST through Yahoo! Sports or at the UFC 112 web site. Charge starts at $44.99.
In the Philippines, Balls Channel (Channel 34 on Sky Cable) will be broadcasting UFC 112 LIVE on Sunday, April 11, 2010 at 1:00 AM with REPLAYS at 10:00 AM and 9:00 PM. Studio 23 will have also air the REPLAY at 10:30 PM.
However, if you can't watch it on TV, several sites will actually offer it for free like UFC 112 Justin TV, Freedocast, LiveStream and UStream. You just have to look for them patiently.
You can also watch it on your UFC 112 Sopcast channel: >> link working already <<
[ad name="image_afterpost"]
Note: The streams are lagging. I suggest you use Sopcast through this channel >>> sop://broker1.sopcast.com:3912/24267 (MMA-TV) <<<
=======================================================
The UFC 112 live stream online free is already OFFLINE.
If you failed to watch UFC 112 live stream online free, I'll try to post the UFC 112 replay.
You can also watch the following UFC 112 videos once available:
Anderson Silva vs Demian Maia video
BJ Penn vs Frankie Edgar video
Matt Hughes vs Renzo Gracie video
Terry Etim vs Rafael dos Anjos video
Kendall Grove vs Mark Munoz video
If you want to receive my latest posts, please
subscribe to my full feed RSS
or have them delivered through email. Just enter your email address below and hit the Subscribe button.
Tags: anderson silva, bj penn, demian maia, frankie edgar, kendall grove, mark munoz, matt hughes, renzo gracie, UFC 112
15 Responses to "UFC 112: Invincible, First UFC Outdoor Event"
Leave a Reply